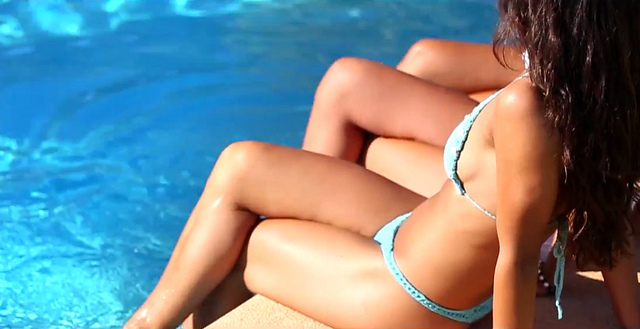 Brazilian Wax: Smooth and Clean
From the top of your head to the tip of your toes if you have unwanted hair, the licensed esthetician at Studio 39 can professionally remove it. Hair removal services and body-waxing include Brazilian waxing, eyebrows, facial hair, under arms, legs, back and bikini waxing.
What you need to know about Brazilian wax
We use the Satin Smooth brand of wax as our staple wax brand but have a variety of different types of wax on hand for every hair and skin type. We use only the most soothing, non-irritating, plant-based professional  waxes for body hair removal.
Waxing leaves the skin soft and smooth and lasts much longer than shaving. Waxing on a regular schedule makes your body hair even softer and becomes more sparse over time.
If you are pregnant, your hormones cause your hair to grow faster. As your baby bump gets bigger, it becomes harder for you to shave and balance on one leg. Brazilian waxing and leg waxing can be a benefit to you when you are pregnant.
Please let the hair in any area you are planning on waxing grow for 2 weeks or 1/2 inch. If any trimming needs to be done, we can do so at the time of your appointment.
We carry products that can reduce the initial discomfort that can be applied to your skin 30 minutes prior to your waxing appointment! We carry Relax and Wax products to help get the most out of your waxing experience.
 Waxing Services
Bikini-$37
Brazilian-$53
Full Leg- $60
Half Leg-$35
Lower Arm-$28
Under Arm-$22
Chest Wax-$40
Full Back-$30
Book An Appointment Today!
We only perform bikini and Brazilian waxing services for women. These are starting prices and may vary due to time and amount of product required.
Tip: Exfoliating the area of skin you are having waxed prior to your service can help lessen ingrown hair afterwards!
No Double Dipping!
Have you ever seen someone at a party dip a chip, take a bite, then put the bitten chip back in the dip and thought, "Ew!" Believe it or not that is also a common term in the spa industry when as well. You don't want waxer who doesn't take the safety precaution in providing a sterile environment or practice good room hygiene. We are talking about wax on intimate areas and you don't want anyone who has "double dipped" a wax pot applying that wax to your face or body. We proudly say we are a no double dipping salon. It should go without saying that is an unsafe practice. Some salons do it though. Whether to save money on wax sticks or out of laziness, who knows. Protect yourself by visiting a salon like ours that takes the service serious.  We educate our clients about industry issues. Our esthetician Bridget is properly licensed to perform these types of services and is very knowledgable and also a fast waxer.
Brazilian Waxing – What to Expect
This hair removal type is a little uncomfortable but the results are well worth it. Routine waxing helps to reduce the pain and will minimize irritation. We recommend taking two ibuprofen an hour before your appointment. Better safe than sorry.
Do consult Mother Nature before booking your waxing appointment. Don't attempt waxing the three days prior to and the first three days of your menstrual cycle. Your skin is much more sensitive at that time, and waxing will be much more painful.
Hair growth should be at least 1/4″ but not longer than 1/2″ (about 2 week's growth) for the most effective waxing. You need some growth for the wax to adhere to the hair. Hair should be at least 1/4″ (about 3-4 week's growth) for the most effective waxing. Do not shave between appointments. This makes the hair more resistant to future waxing. We recommend booking appointments every 4 to 6 weeks. The hair eventually gets softer and thinner every time it grows back.
After Waxing
After you get your Brazilian wax, it is likely that your skin may be slightly irritated and possibly red. If this happens, it will usually clear in a day. Do not exfoliate or spray tan, and avoid sun and heat for the first 24 hrs as exposure will inflame the skin. Aloe Vera helps with discomfort for the first day or so. We recommend using the Relax and Wax Line. "Get the Bump Outta Here" is a roll-on product designed to calm the skin and prevent in-growns. After a week use of the Scrub Me Luscious by Relax and Wax. Exfoliating will eliminate dead skin that prevents the now-weakened hair to get to the surface of the skin.