Lee's Summit's New Top Rated Hair Salon
At our Lee's Summit hair salon we offer our 25 years of established skill! Master stylists from our Kansas City salon lead our Lee's Summit team with experience and talent. Welcome to our Lakewood area location.
Demand for Studio 39 Salon in Lee's Summit
Custom haircuts, hair extensions and hair color are now closer to home in our family friendly salon. Inspired by a growing increase of area guests already loyal to the downtown location, our Lee's Summit hair salon was built to share the goal of delivering upskilled service synonymous with the S39 brand.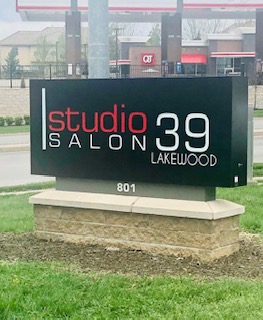 Studio 39 Salon, Best Hair Colorists in Lee's Summit
Appointments are recommended but some associate stylists can be booked for light color work online. Consultations for new color guests are preferred. For corrective color or new color service they are needed. Salons are like "hair gyms" and color planning gets results, and your salon consistency maintains them.  
Please read information on how our color and blonde process works on those pages. Highlights are a blonding service and highlighting to remove old hair color is a corrective color. 
Balayage & highlights  and heavy blonde or platinum are types of advanced hair color we're known for. For a serious color fix, schedule a consultation for a corrective color.  
After 2 visits when your new color is established, we suggest pre-scheduling color maintenance. Since we opened in 2019, we've been busy! 
Haircutting & Extensions in Lee's Summit
Signature haircuts include a consultation, relaxing shampoo, foundation cut, blow out and a dry cut finish. We are Deva & Surface Curl Certified for curly haircare and cuts and all professional hair extension techniques are offered. Expanded hair service is our specialty, experience the Studio 39 difference! 
How to book:
Email: Note hours of operation, email replies will be sent next day if they are sent after hours. We're closed on Sunday and Monday and will respond Tuesday.
Call: If you call after hours please leave a message and we will get back to you the next day.
Book Online: Prepaid haircuts, consultations and light color services are available with associate & advanced stylists. Master & senior stylists book consultations. Please include booking notes & read service descriptions!
Salon Hours:
Tuesday: 10 am – 6 pm
Wednesday: 12 – 8 pm
Thursday: 10 am – 6 pm
Friday: 10 am –  6 pm
Saturday: 10 am – 6 pm
VIP Times: Upon request.
Lee's Summit Hair Stylists
 Most stylists do specialty services, with perhaps the exception of corrective color work or hair extensions, but senior and master stylists are experienced in all salon services and hair color.
Choosing the right stylist.
Our lead master stylists are Mariah and Liz. Mariah does all advanced haircuts, extensions and hair color services. Liz is experienced in all color and cutting, keratin certified and is also a licensed barber as well. Ashlea, Rachel & Nicole do family haircutting, perms, tape extensions and hair color. Rachel is also an NBR associate stylist. Need help finding a stylist? Contact Eli our guest service specialist.  
Tap a hair stylist below to learn more about their services, pricing and schedule. 
Color Consultations Matter
 We offer online booking, but salons are personal service businesses. Every salon does things differently so if a new guest is unfamiliar, they may accidently book the wrong appointment.  
Below are single process color maintenance starting prices from an associate to a master stylist, but most advanced color is done by senior or master stylists only.
Consultations place you in the right service, so you know time & price beforehand.  
Haircare
Signature Cut $48- $68
Kids Cut $25+
Clipper or Gent's Cut- $30-$45
Deep Treatment $25
Cut with Gemy $88- $128
Color Service
Base Refresh $83
Toning Gloss $50
All Over Color $140
Partial Highlight $165 & up
Full Highlight $185- $210
Balayage Full $195-$220
Balayage Partial $165- $18
Specialty Color
Consultation $25
With Gemy $45
Toning Gloss $35-$75
Corrective Color $90- $100 an hour
Global Blonde $90- $100 an hour
With Gemy- $120 -$130 an hour
Hourly is based on the color project or until color maintenance is achieved.
Salon
Blow Dry Style $45 
With Curls $55
Brows: Wax $20 Tint $20
Lip Wax-$18
Lash Extension Set $150
Perms  Quoted at consult
Keratin Smoothing Treatment $300-$350
Eli
Ashlea
Rachel
Senior Stylist & Colorist
Master Stylist & Colorist
Owner, Master Stylist & Colorist
Visit our Lee's Summit Salon!
See one of our Lee's Summit hair stylists for your haircut or hair color! Contact us to learn more about our hair stylists, hair services, or hair products.