Lee's Summit's Top Rated Hair Salon
Studio 39 Salon offers our established expertise in the convenience of Lee's Summit's Lakewood neighborhood. Our team of stylists provide Lee's Summit with hair cutting and salon services for women, men, and children. We offer style and color consultations for all new hair color guests.
At Studio 39 Salon, we believe that every client deserves to look and feel their best. We offer a wide range of hair services, from cuts and color to extensions and blowouts. Our talented team of stylists is passionate about providing each client with a personalized experience. We take the time to get to know our clients and their individual style preferences in order to create a look that is uniquely theirs. For those looking for a new salon home, we invite you to come and experience the Studio 39 difference. We guarantee you won't be disappointed!
Appointments are recommended but associate stylists may be available for same day appointments, depending on availability.
Studio 39 Salon Lee's Summit Best Hair Colorists.
That's why we prefer consultations. To give you the best hair color! Balayage, ombre, foil highlights, blonde and platinum looks are all types of advanced hair coloring services we do. If you have a color that needs to be fixed corrective color can help!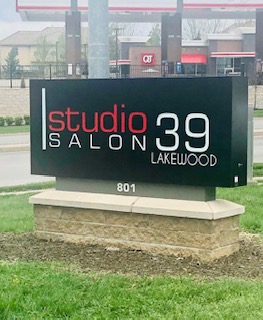 Haircutting & Hair Extensions in Lee's Summit
Signature haircut services include consultation, shampoo, wet cutting, and hair styling with a finish dry cut. We also do professional hair extensions of different techniques right for various needs and types of hair. Costs in general are based on service, your individual hair type, and our experience standards for stylists. You're invited to see why Studio 39 color, cutting and specialty services are top rated!
 How to book:
Email: Send a service request. If it's hours or on Sunday or Monday, we will get back to you on Tuesday, the next day of business.
Call: If you call after hours please leave a message and we will get back to you the next day.
Book Online: Prepaid cuts & consultations are available online.
Our Team of Lee's Summit Hair Stylists
Tap a hair stylist to learn more about their services, pricing and schedule. Most stylists do our specialty services, with perhaps the exception of corrective color work or hair extensions, but senior and master stylists are experienced in all salon services and hair color. 
Choosing the right stylist.
Mariah is a master stylist who is accomplished in all services and extensions and is our head stylist on the floor. Liz is also a very experienced  stylist and assists managing the Lakewood salon with Gemy. Liz  does all color, cut and keratin services but does not do extensions.  Nicole does tape extensions and lash extensions as well as all hair services. Rachel does all haircutting and color services as well as keratin smoothing treatments and perms.
Please call 816-554-4700  to inquire about services or appointment options. Both Studio 39 Salon locations  require a consultation for all new salon guests seeking anything other than a haircut.  You can read our updated terms of service & schedule a cut or consultation on our online scheduling page. 
Salon Hours:
Tuesday: 10 am – 6 pm
Wednesday: 12 – 8 pm
Thursday: 10 am – 6 pm
Friday: 10 am –  6 pm
Saturday: 10 am – 6 pm
VIP Times: Upon request.
Eli
Rachel
Senior Stylist & Colorist
Master Stylist & Colorist
Owner, Master Stylist & Colorist
Consultation Required For New Color Guests
As part of our Best Practice we require a consultation for all new salon guests seeking anything more than a haircut. All pricing is based on the time of service, products needed, and stylists level. Below are examples of average service prices.
Please read our terms of service and cancellation policy prior to scheduling. 
Haircare
Signature Haircut $48- $68
Clipper or Gent's Cut- $30
Deep Treatment $25
Color Services
Base Refresh $83
All Over Color $40
Partial Highlight $165 & up
Full Highlight $185- $210
Balayage Full $195-$220
Balayage Partial $165- $185
Toning Gloss $35-$45
Salon
Blow Dry Style $40 
Up-do –$75
Brows: Wax $20 Tint $20
Lip Wax-$18
Lash Extension Set $150
Perms  Quoted at consult
Keratin Smoothing Treatment $260-$330
Visit Our Lee's Summit Salon!
Lee's Summit haircuts are provided by the Lee's Summit hair stylists at Studio 39 Salon. Ready for a new haircut, hair color, beard trim, or other hair services? Reach out to book an appointment or to learn more about our hair stylists, hair services, or hair products.