Hair Extensions
  For the best Kansas City hair extensions, Studio 39 is your top choice for a professional extension salon. Multiple techniques and trained extension specialists are available to meet with you at both locations. Have confidence in our 15 years of experience for hair that blends beautifully and looks natural. Helping you choose a system for your hair and lifestyle is our goal. See why we're the top rated salon for Kansas City hair extensions!
Professional Hair Extension Certifications
Babe, Hair Locks, Hot heads, and Platinum Seamless are a few of our professional extension certifications. We also have wholesale distribution with the largest Remy hair supplier. Wholesale distribution and 13 hair extension certifications means experience you want when searching for the best Kansas City hair extensions.  
Extension Salon Benefits
 High volume specialty salons like ours are rare because custom service skills are a must for extensions. Over 4000 sets of extensions have been done at Studio 39 and our established purchasing volume means we get the best price on hair extensions reserved for professional use. Extensions that aren't available to the public, or even your average stylist. 
Types of Extensions
Every type of hair extension technique is offered here to meet your specific hair needs and personal preference.
Tape hair extensions are popular for ease of wear and are great if you are new to professional hair extensions.
Kera tip fusion are single strands fused with a special iron.
Fine hair tape method is a special technique made popular by our owner for fine hair with the comfort and flexibility of tape methods. 
I-Tip micro link extensions is the first method our owner was certified with in 2008. Great for linear movement in fine hair. 
Cold fusion compression means no heat compression for less damage to hair. Micro links are a cold fusion technique. 
Beaded rows of your natural hair are called NBR extensions. A newer popular method where machine or hand tied wefts (HTW) are sewn in beaded rows of your hair.
All hair extensions are customized for each guest but they are a cosmetic service that require attentive home hair care. Buying the home care products is important for you to protect your investment because we do not refund hair extensions or service costs. 
Established Quality
When extension popularity started to peak, many new hair companies sent us samples. Pre-checking hair under a microscope for quality was how we vetted suppliers. By narrowing down 15 years of experience, research, and results we chose to partner with brands we now have longstanding relationships with.  
Kansas City Hair Extensions- Price Info
First you will need a consultation. Cost of this service is $50 and can take up to 45 minutes to custom match your hair and explain care and maintenance. Prices are based on 2 separate expenses, the cost of hair extensions and the cost of service. Stylists' average time for installation is 2- 3 hours and like all specialty services, time is figured at an hourly rate. 
 Hourly rates start at $100 depending on the stylist. After a consultation, you'll make a deposit for half of the hair cost to order the hair we matched for you. Remaining balance of the hair extensions are paid when they're installed. Manufacturing and production facilities pre-color the hair, but color changes can be made if necessary.
Studio 39 Salon Hair Extensions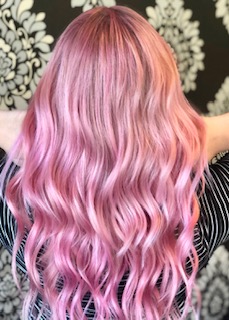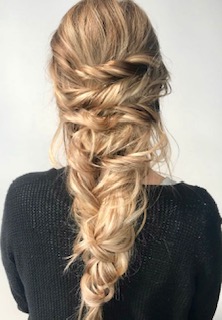 Booking hair extensions.
Fee for a consultation is usually applied to the hair extension cost. Your natural hair should be at least chin length for most extensions. Small areas like the sides only are called integration extensions and can help grow out an awkward length. Methods like this can be as low as $500, but a full set of premium 22-inch blonde extensions can be as much as $2500.
Full Cuticle Remy Hair Extensions
Often, we are asked if we use Remy hair. Yes, because all salons should use Remy hair. Remy is simply an industry term that's become overused to state quality. Originally it meant full cuticle, healthy hair because poor quality hair has uneven cuticles that make hair look dry. Since demand for hair extensions has boomed in the last 10 years, the industry of global human hair trade has struggled to keep up.
An example of how less reputable hair companies have done this is found in home hair color. Box color includes a wax based "conditioning" treatment. Designed to coat damaged hair cuticles to lay flat so you think your hair is healthy but it doesn't repair damage. Less reputable extension companies use similar chemical tricks, so we only use companies we trust.  
Ethically sourced hair supports humans ❣️

Socially Responsible Salon 🌎
Most people don't realize US hair companies rely on international hair suppliers. International hair trade is unregulated, so hair passes through many hands before arriving to salons. Knowing quality hair over chemically enhanced hair takes an expert eye but we'll never compromise our ethical responsibility that comes with doing extensions. Many salons are not aware of this topic or avoid it entirely so by choosing us your hair extensions will be beautiful and human friendly.