Bridal Hair – Special Event Styling
Bridal and On Location Services Suspended
We apologize but due to COVID-19 we won't be doing on location for bridal parties. We can book brides only (no large parties) for hair only appointments in the salon.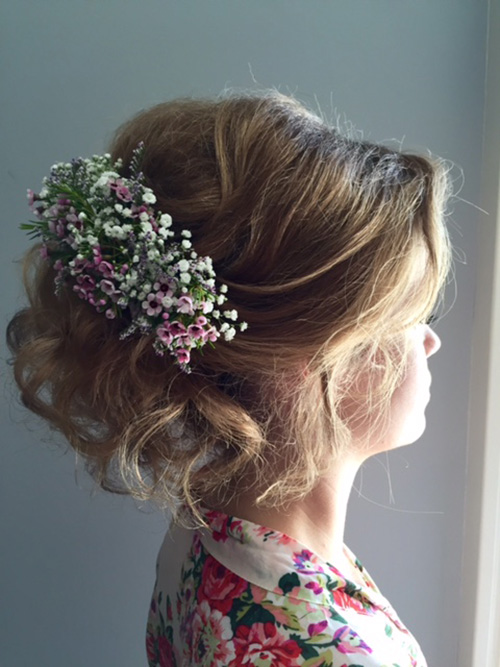 Our On-Location Hair Services for Prom, Weddings, and Special Events
Special events require special preparation—that's why we're proud to offer on-location professional hair styling, makeup application, and airbrush body makeup for your special day. Whether it's a prom, big event, or your wedding day, Studio 39 has got you covered. We can travel within sixty miles of Kansas City and require a deposit to reserve your glam team.
Enjoy On-Site Wedding Hair and Makeup or Special Events Hair Styling
On their big day, most brides request we travel for on-site hair and makeup services. Getting glammed up on-location allows you and your bridesmaids to enjoy the morning together and makes for convenient wedding-day photoshoots. We're always honored to be part of a bride's special day, and we love to create the perfect wedding hairstyle and make-up for you and your bridal party!
Or Relax at our Bridal Lounge
If you'd rather get your wedding style perfected off-site, book ahead and bring your entire bridal party, including the mother-of-the-bride. Each special guest can have their hair styled, makeup done, and lashes applied. We can help make the day your own. Our lobby coordinator can order lunch and even bring champagne to our bridal lounge so you don't have to worry about a thing. Use of our lounge comes complimentary when you book a wedding party of three or more. Relax and enjoy privacy while you sip mimosas and get ready. If you have any questions, call us at (816) 756-1187. We will make sure you and your bridal party look and feel fabulous on your wedding day!
Fill out our PDF form or call us and book your bridal consultation for your hair and wedding makeup today – (816) 756-1187.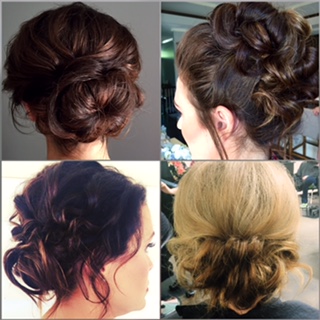 Wedding Hair Stylist in Kansas City From Studio 39 Hair Salon
There are a few days in your life that you could call "the most important day"—your first date with your future spouse, high school and college graduation, day-one at your first job, and the day you got engaged could all be considered memorable. However, many people would say the most important day of their life was their wedding day. So much planning and preparation go into a wedding. From the dress to the snacks, it's all a reflection of your personal style. Your hair and makeup are no different.
At Studio 39, our experienced wedding hair stylists and makeup artists are the best in Kansas City. We know how to create dramatic glamour or natural elegance. Every bride has an idea of how they want to look on their wedding day. We can help take your ideas and create your vision so you can relax and enjoy the most important day of your life.
Book Your Wedding Hair and Makeup Appointment
Once you have your date selected, call us to book an appointment with one of our bridal hair and wedding makeup specialists. Feel free to bring us a photo of your dress and any headpiece or hair ornament you plan to use. Tell us what kind of bridal look you have always wanted for your wedding day, and we will provide thoughtful input and suggestions about what is current in the world of special event styles. We have done hair and makeup for hundreds of weddings in the Kansas City area. Whether your look is sleek-n-chic or romantic vintage, we will help customize your bridal style.
Read What Other Brides are Saying!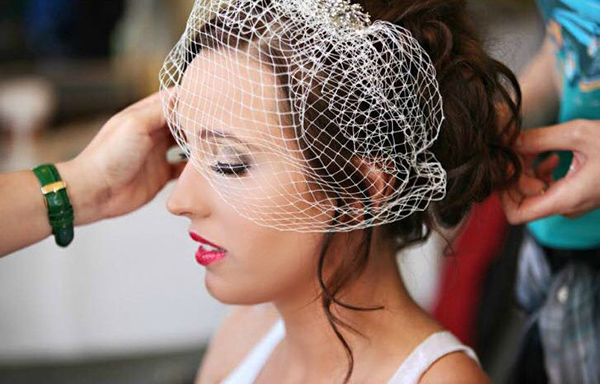 These girls came after the stylist I booked stopped answering my calls. With five days notice, they made it to my venue 15 minutes early and did a fabulous job. I don't think I had ever looked so wonderful, and they were worth every penny. They were joking with my girls and kept everything light and fun. Megan asked what I wanted for my hair. I showed her a picture and she pulled it off exactly! The makeup artist asked the same question for my makeup and reassured me that she would do whatever I wanted. She did it just like the picture I showed, and I loved it! These girls were wonderful and affordable. I will definitely use them as my regular stylists from here on.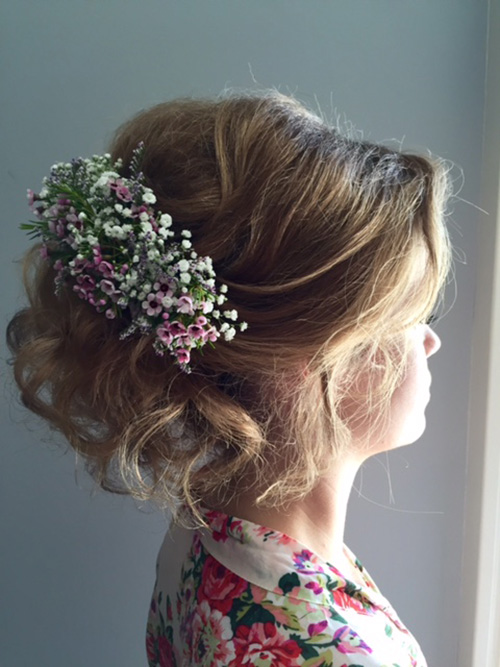 On-Location Service Prices:
Bridal Makeup:
$95.00
Airbrush Makeup:
$110.00
Special Event/Bridesmaid:
$75.00
Add Lashes:
$15.00
Makeup Lesson:
$85.00
Prom Hair and Makeup From Studio 30 Hair Salon in Kansas City
At Studio 39, we don't just do wedding parties—we style hair and makeup for prom parties, too! Like your wedding, prom is a night to celebrate and express yourself. After picking your dress, the next important step is to finish off your look with hair and makeup that brings out your natural beauty and complements your dress. Our prom makeup artists and hair stylists can help create your perfect prom look and ensure it looks just as fabulous on the dance floor as it does for your pictures. Whether you're going full-out glam or simple and natural, we're ready to help your vision come to life.
Airbrush Makeup for Special Events
At Studio 39, our team of licensed makeup artists utilize the latest techniques and the highest quality products to achieve your desired look. Special occasions require a little "something special" for a glamorous look. Leave it to the professionals at Studio 39. Take the stress off yourself by having your makeup done in less than an hour, so all you need to do is change into your attire and go have fun! Whether for a bridal party, a night on the town, or a new makeover just because you deserve it, our talented makeup artists will ensure you look your best and help you achieve the perfect look for any event!
Special Event Pricing
All prices below are starting prices for our wedding and special event services. Prices vary based upon hair length, location, and style-specific details.
Fill out our PDF form and call us to book your bridal consultation for your hair and wedding makeup today at (816) 756-1187.
Ready to get started?
Please click here to view our Bridal Booklet or if you have any questions, call us at (816) 756-1187. We will make sure you and your bridal party look and feel fabulous on your wedding day!