Corrective Hair Color
Hair color correction is one of our most common services. If you are unhappy with an at home box color or another salon's work, a consultation for corrective hair color is the first step. 
Many of our corrective color customers are new clients who have come to Studio 39 Salon from another salon because correcting existing color is difficult. Nothing about fixing botched color is easy. What sets our hair color correction stylists apart from others is the training and experience they have for this salon specialty service. We can get your hair color correction situation under control. 
Make the investment in an experienced color salon to have your color done well the first time so you do not pay more money later to have it corrected.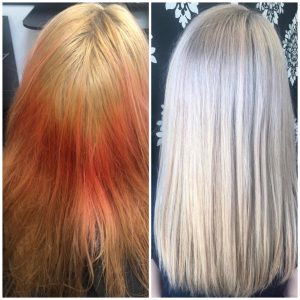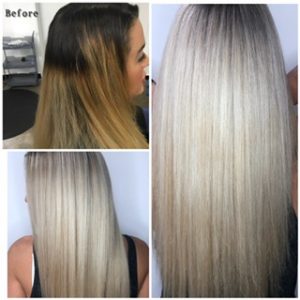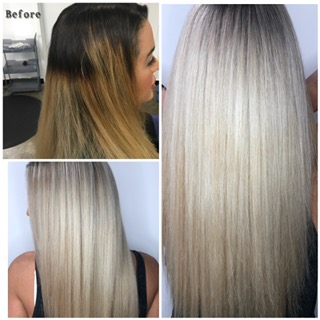 The Science of Corrective Hair Color Work
The best corrective colorist can fix another stylist's work and their own. Just like any profession, there are specific areas of study to do specialised work. An urban planning engineer would not know the same things an engineer does that designs skyscrapers, and vice versa. Color theory, chemistry and biology are things a corrective colorist must know well in our profession to develop protocols for the most common corrective color situations. Once in a while we get a situation where a client's hair does not perform like it should. There are so many factors when chemically altering the color of an organic compound like hair because hair by nature is fragile. 
How Long Does a Corrective Color Service Take?
The corrective color process varies depending on the color situation we're fixing. Some are easy fixes, some are not. Time depends on the type of correction, how light you want your hair and the condition of the hair. 
For many situations, additional visits are required depending on how much you want to correct or alter the look of the hair. On every color page we say that hair color is about your level of commitment to maintenance. The lighter the hair, the higher the maintenance, but color is about options so having an open mind is beneficial to finding the right look for your lifestyle and budget. 
 Hair color corrections and blonde work use a lot of salon resources in product and labor. Going light blonde on dark hair is a process and usually requires more than one visit to the salon, especially if there is previous artificial color on the hair. Going darker on blonde requires the same attention and may also require multiple visits. A consultation determines whether what you are looking to achieve is attainable. From there, the 2 key factors for a good result are experience and time. 
Time, Time and Time. 
In real estate they say the cost of a home or building is about "location, location location". Time is the equivalent to the cost in a salon. Based upon our experience, we have a general idea of how long an average service takes, corrective hair color isn't an "average" service. This is why we charge hourly rates for hair color that falls outside of color maintenance. We can achieve what you want if things are booked correctly because we have the time. 
Hair Color Correction Chemistry
Corrective hair coloring requires knowing what will happen. Exact mixing, texture and placement are all key factors in hair color. An experienced colorist knows special lighteners are necessary for different techniques like balayage or platinum looks. Balayage is a method of highlighting where lightener tapers away from the root in natural-looking highlights. This technique is also commonly used to achieve natural blonde looks. You can learn more by reading about our balayage services.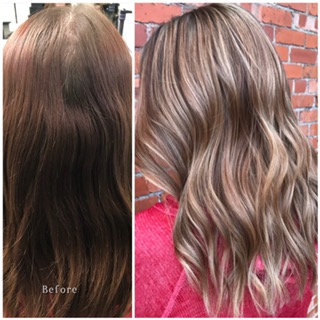 Balayage Services
"Baly" is what we call balayage and it's a hand painted technique using a clay lightener that is thicker than the formula we use for regular color services. This provides creative flexibility to give a color guest a one-of-a-kind look. Balayage has always been part of our color tool box and it is a technique that has evolved to include color melting, shadow roots, dimensional blonde, and more. If you are looking for the best color correction Kansas City has to offer, book a consultation with one of our trained and experienced hair stylists to learn how we can improve your existing hair color. In certain cases of real color emergencies, we can prioritize your appointment. For more information, call or email which location you want to visit from our home page.