Hair Extensions
Choose Studio 39 Salon for Experience in Professional Hair Extensions
Studio 39 Salon is Kansas City's premier salon for professional hair extensions. We offer multiple options in hair and techniques and different stylists that do extensions. Experience is necessary for great looking professional hair extensions that blend well. Our 15+ years of certification and experience can help choose the hair extension system for your hair and lifestyle. 
Hair Extensions, Different Techniques, and Types of Hair
Babe Hair Extensions, Hairlocs, and Platinum Seamless are just a few of the professional hair extension companies we have salon certification with. Additionally, we have wholesale distribution with reputable Remy hair suppliers that are ethically responsible. These two factors are why we get the highest quality hair reserved for professional use that is not offered to the public.
There are several types of hair extension systems to meet the needs of all hair types and we offer the techniques we feel meet the needs of guests. 
Tape hair extensions are popular for ease of wear and are great if you are new to professional hair extensions.
Fine hair tape method is a special technique made popular by our owner for fine hair guests seeking the comfort and flexibility of tape in methods. 
I-Tip Single strand micro-link extensions are one of our most popular methods and one of the first methods we were certified for. Great for linear movement and great for fine hair. 
Cold fusion compression means no heat is used so its  less damaging to hair. 
Natural beaded rows or NBR are the newest and most popular type of methods. This is wear a machine or hand tied weft (HTW)  is sewn in beaded rows of hair.
Every set of hair extensions is customized for each client; however, this is a cosmetic service that requires close attention and at home care. We recommend you buy the brush and all required care products. Hair extensions are an investment that require special products and care. We do not refund on hair extensions or the labor required to install or maintain this service.
We Only Use Professional Brands We Are Certified With
When professional hair extensions peaked, we started pre-checking hair under a microscope for production consistency. If you move to the area with professional hair extensions and are looking for a new hair salon to maintain them, we have you covered. In some cases, we have guests who ask if they can buy them online and want us to install them. We rarely do, depending on the situation, but we will ask you to sign a waiver so we are not responsible for the quality of the hair or any damage they may cause. Low quality hair can cause friction and matting. We do not want that for your hair, and we do not want to work with the situations we have seen from inferior quality hair.  
Studio 39 Salon Extensions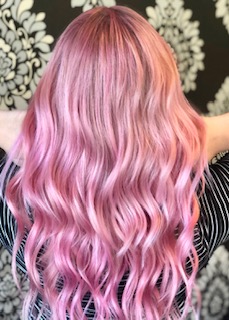 Studio 39 Salon Extensions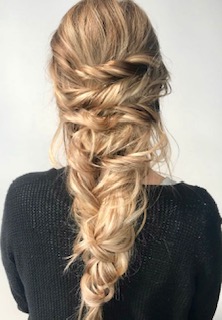 We realize there are many options and things have changed, but all professional service providers like to use the pro brands they have a relationship with. The companies we use and the techniques we offer have been chosen by narrowing down the best quality and results over 15 years. We used to offer heat fusion but over time they can damage your hair. Cheap or low-quality hair extensions could even ruin your hair. Not all hair extension brands and methods are created equal, and we have seen the damage from DIY or improperly installed extensions. Keeping your hair healthy is always our priority. 
How We Charge for Hair Extensions at Studio 39 Salon
Hair extension cost is always broken down in 2 categories. Cost of hair is separate from the cost of the labor for the hair install and maintenance. Stylists average time for extension work appointments is about 3 hours. Depending on method and quantity of hair or length, time of appointments may vary. Like all our specialty services, stylist labor is figured at an hourly rate depending on the individual stylist, however average rates are about $100 an hour. We take a deposit at the consultation for half of the hair cost, then we special order the extensions we matched for your color and texture.  
The consultation ensures cost and maintenance is understood. Sometimes, after we receive hair there are slight color variations. Manufacturing and production facilities pre-color hair, but it is 100% human hair. Slight color variations may occur, but we have the color expertise to make any modifications. A good working relationship with your stylist is important so that we can give you quality extension service. 
How to book an appointment for hair extensions.
A consultation is the first step. There is a $50 charge which is applied to the hair cost if you decide to get professional hair extensions. Sometimes we will waive the consult cost if we feel the service is not right for you, or offer to apply it towards another salon service better suited for your hair. Going over maintenance, care, products and custom matching the hair color can take up to 45 minutes.
Natural hair must be chin length for most types of extensions. Smaller areas (like doing the sides only) to help grow out an awkward length is sometimes done. Integration installs like that can be as low as $200. A full set of full set of premium 22-inch blonde extensions can be as much as $1,800. Each individual has different hair types and there are too many options and technique variables. This is why we don't quote prices or ball park by phone. But if you want a full set for length, expect to spend a minimum of $1000, regardless of technique. A deposit is required for half the cost of hair and the remaining portion is paid on install day, along with the stylists hourly extension rate.
Studio 39 Salon Extensions
Full Cuticle Remy Hair
We are frequently asked if we use Remy hair. The answer is yes. All salons should use Remy hair. It is an industry term that has become overused. Sometimes it is used to indicate quality, but the real meaning is the hair consists of full cuticle strands where the cuticle lies flat and is going the same direction. When hair is chemically treated or uncared for, the exterior part of a hair strand (the cuticle) can be open and go different directions. This makes the hair dry and less silky.  
Hair extension demand has exploded in the last 10 years. Discerning real quality hair over cosmetically enhanced takes experience in knowing what to look for. Just like glaze or conditioning treatments that temporarily close damaged hair cuticles to "appear" healthier cosmetically, hair companies can do the same. Some less reputable hair companies do this, so a trained eye and careful selection is necessary. Most people do not realize sourcing hair is done internationally, therefore it is an unregulated industry. Hair goes through many hands before ending up in a salon, so we purchase from three main companies we have worked with for years.  
Our Professional Hair Extension Stylists at Studio 39 Salon
Downtown Location
Brie & Landon do all methods but if you're looking for NBR specifically, book with either of them downtown.
Taylen specializes in various techniques of tape extensions, including mini and single side tapes for fine hair.
Emily does tape and single strand micro lock hair extensions.
Lee's Summit Location
Mariah does all extension methods including tape, single strand and NBR.
Gemy does all extensions as well but is currently only doing consults to place you with the right stylist.
Skylar does NBR and tape methods.
Nicole does tape in methods.