If you are unhappy with an at home box color or you're unhappy with another salon's work, you may need corrective hair color. Many of our corrective color customers are new clients who have come to Studio 39 from another salon. Advanced formulation and application for color are far from easy. What sets our hair stylists apart from others is the training and experience they have in advanced hair coloring and corrective coloring.
Make the investment in an experienced color salon to do your color right the first time so you do not pay more money later to have it corrected.
How Long Does a Corrective Color Service Take?
The corrective color process varies due to the specific nature, as well as the current condition of each hair type. For some situations, additional visits may be required depending on how much you want to tone or color-correct the hair. Going light blonde on dark hair is a process and usually requires more than one visit to the salon, especially if there is previous artificial color on the hair. Going darker on blonde requires the same attention and may also require multiple visits. A consultation with one of our experienced stylists is very important to determine if the results you are looking to achieve are attainable.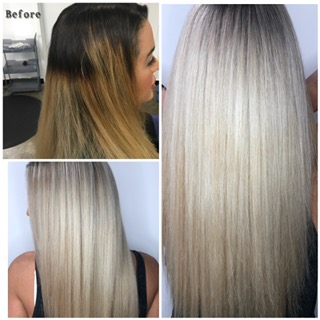 Correcting with Confidence
Corrective hair coloring requires knowing what will happen. Exact mixing, texture and placement are all key factors in hair color. An experienced colorist knows special lighteners are necessary for different techniques like balayage or platinum looks. Balayage is a method of highlighting where lightener tapers away from the root in natural-looking highlights. This technique is also commonly used to achieve variations of the well-known ombre or "natural' blonde look. You can learn more by reading about our balayage services.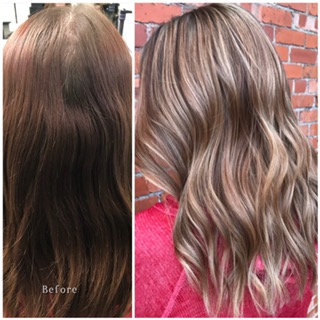 Balacolor Services
"Balacolor" is a unique method in which your hair stylist combines lowlights with a special color that is thicker than the formula we use for regular color services. This provides creative flexibility to give a color guest a one-of-a-kind look. These types of advanced services include color melting, creating shadow roots, dimensional blonde, and more. If you are looking for the best color correction Kansas City has to offer, book a consultation with one of our trained and experienced hair stylist to learn how we can improve your existing hair color. In certain cases of real color emergencies, we can prioritize your appointment. For more information, call us at 816-756-1187.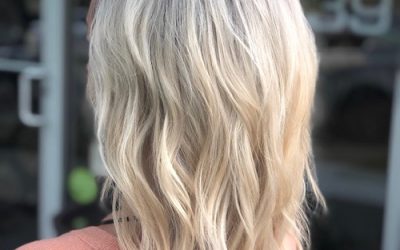 Home Hair Color Home hair color is something we ask about because if you want to change it later, it will be a big process. Though there appears to be a myriad of color choices, it is a marketing move to make you feel good about the box YOU choose. A colorist...
read more