Brazilian and Bikini Waxing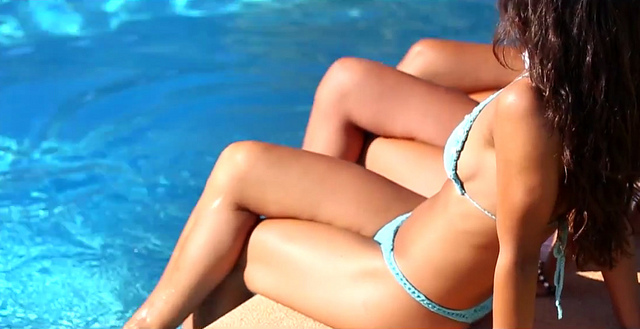 Waxing Services in Kansas City
We offer body waxing services to keep you smooth and buff all year long. Our waxing specialist gives an almost pain free experience! She's fast and uses the right type of wax for each area of the body. That's one of the most important things for Brazilian and bikini waxing.
We always take all the necessary safety precautions and take sanitation very serious. Our body services are only performed by a licensed esthetician.
Pricing
Brazilian Waxing – $58
Introduced by a group of Brazilian sisters in 1987, this wax is similar to a bikini wax but removes more hair. If you opt for a Brazilian our esthetician will remove all the hair from down there—you have the option of going completely bare or leaving a triangle or landing strip of hair on top.
 Bikini Waxing – $48
Bikini waxes can be done one of two ways: you can opt for a full bikini which takes off as much or as little hair as you want from the front or you can do a bikini line wax which takes off the sides and a bit off the top. As the name implies, this is to keep any hairs from showing up if you're wearing a bikini.
 Underarm – $25
Underarm waxing is pretty straightforward. Our esthetician uses the most appropriate wax to remove the hair from your armpits. Because the hair tends to grow in different directions, generally it won't be done in one quick pull, but with our expertise it's as quick and pain-free as possible.
Back – $62
Everyone has a little bit of hair on their backs, but a lot of people have more than they want. Back waxing is particularly popular among men who want to keep things smooth.
Facial Waxing
Chin – $14
Chin waxing is ideal for those darker, stubborn hairs.
Eyebrow – $18
Keep your eyebrows on fleek with regular waxing.
Lip – $14
Get rid of that upper-lip fuzz with a good old fashioned lip wax.
Tips for Body Waxing
We won't "wax poetic" here: it's probably going to hurt a little. It's virtually impossible to guarantee a pain-free experience, but our licensed esthetician knows the tips and tricks on how to minimize discomfort.
1. Trim Your Your Hair Before You Go
Hair should be a minimum of ¼" before you wax and we don't recommend shaving in between appointments. A wax should last three to four weeks depending on your rate of re-growth and, if you keep away from razors, after a few waxing appointments your hair should be growing on the same cycle which will keep you smoother even longer.
2. Don't Tense Up
Breathe in, breathe out – The more tense and anxious you are, the more pain you're going to experience. Do what you can to stay relaxed and at ease during your appointment for the least pain. We don't recommend using a glass of wine to reach nirvana before coming in—alcohol can cause your pores to tighten which will make the experience more uncomfortable for you.
3. Be Mindful of Your Meds
Tell us what meds you're taking because not everything is compatible with waxing. If you're on antibiotics, Accutane or using Retin-A let us know. On a similar note, topical numbing creams aren't necessarily effective at reducing pain during a wax but feel free to take a couple of ibuprofen prior to your appointment.
4. Wait For Mother Nature's Monthly Gift to Pass
If you're on or near your period you can still get waxed, but it isn't recommended because your skin tends to be extra sensitive during this time of the month.
5. Switching Positions
If you're getting a bikini or Brazilian wax, be prepared to have to assume some positions that might make you feel a little silly. But there's nothing to worry about, it's just another day in the office for our professional esthetician.
6. You Might Get T(w)eased
Leftover hairs may need to be tweezed, which can be uncomfortable on freshly waxed skin but ensures you get the smooth result you want.
Aftercare for Body Waxing
There are things you can do after your appointment to ensure your skin stays smooth and is soothed quickly. Hydrocortisone cream can be used to soothe your skin. It's important to wear loose, comfortable clothing for at least the rest of the day and avoid friction. You'll also want to stay out of the sun.