Balayage & Hair Highlights
 One of our signature colors is dimensional hair color which we create with various foiling or freehand techniques. Balayage is a free hand hair painting technique. Over time balayage has been used to describe natural "lived in" highlighted hair color looks. Whether we paint or use foil, both are highlight techniques to lighten or blonde up hair color.  
Contrast & Depth Create Dimensional Hair Color
Dimensional highlights are on trend but what is it? It's hair color that has both contrast and depth. Contrast is brightness or lighter hair. Depth is the deeper tones that add dimension. Every color situation is unique, it is common for us to use multiple techniques on one color. Good highlighting involves knowing where to leave the natural depth to create the visual movement that dimensional hair color needs.  
Balayage and Highlights For Brightness 
Specialty color is an artistic skill, but balayage is how fluid custom color is achieved in all colors, even with red hair. Great hair color is about placement and formulation. Highlighting and balayage allows us to build blonde over time or keep blonde natural. Balayage highlights can be done as blonde balayage, caramel balayage, brown balayage or other balayage highlights.
Color balance is done with dimensional looks with lowlights. If you have ever experienced becoming "too blonde" after getting highlights regularly, or had lowlights that were muddy looking or blotchy, that is from lack of experience on how to use balayage and hair highlights for dimensional hair color. Our color approach is evolved because every color gets the benefit of a custom color plan.  
Color Planning 
Sometimes our industry places women in color trends that may not be right for them. Often, we see "under colored" hair when colorists are not clear on how to achieve or maintain certain looks. If beautiful custom hair color tailored for you is something you want, invest in a color specialty salon like us! 
The Process Of Dimensional Color
Below shows the process from all over global blonde to dimensional highlighted color using 4 color steps for blended results of natural depth and bright pops of blonde.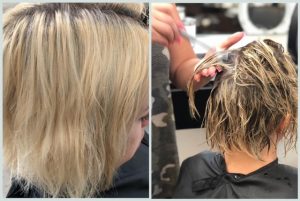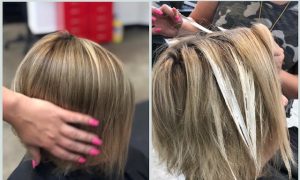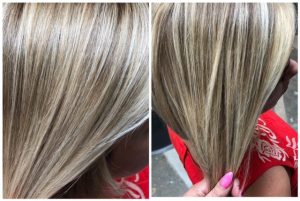 After the ombre trend, balayage evolved and so did "lived in color" looks which could be maintained every 12 weeks. Now HAIR highlight trends have brighter contrast higher on the head, but these need 6-8 week maintenance- whether you're blonde or brunette. Salon visits are like gym visits. Best results are gained by being consistent. Sticking to a color maintenance plan gets results.
Gray Hair – Studio 39 Hair Salon Can Help
Most women don't realize the hair aging process starts in our 20's but one of our specialties is blending or covering gray while maintaining hair highlights. Traditional gray covering with color on women who have always had highlights, may create uniform color causing them to eventually lose the dimension they're used to. Over time coloring grays at the roots covers the highlights they had. There's 2 ways to maintain dimensional color while addressing visible gray. 
Gray Blending versus Covering.
Blending minimal grays can be done by using fine stitch highlight techniques like microlights or baby lights, which are terms used to describe very thinly stitched highlights. If there is more than 50% gray present at the root, we may need to cover gray with a base color and highlight with balayage or foil. This is challenging even for experienced colorists for 2 reasons. 
1). It requires multiple techniques and applications of base color, highlights and 1-2 finishing tones.
2). Gray coverage means just that, covering hair with cosmetic color. This means we deepen gray (which is lighter) back to your natural color which deepens and darkens hair at the root. Most women who have hair highlights want to cover gray while keeping blonde pieces around the hairline of the face. 
 Highlighting gray is low maintenance.
So gray covering with professional highlights creates the very difficult situation of darkening and lightening hair at the same time on different parts of the hair and different parts of the head, all in the same service. Very tricky stuff! This is why planning and thinking of what will need to be done in 6 months is necessary. Thinking that far in advance is rare for anyone, but when your hair starts to get gray and you want to keep highlights, look for an experienced color salon.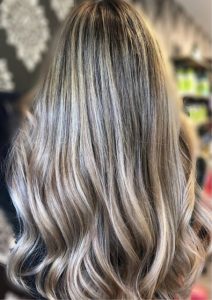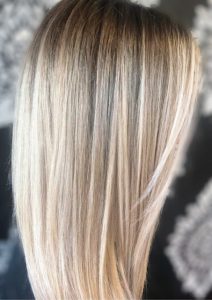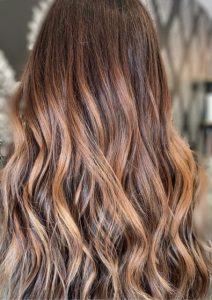 Seasons change, but hair maintenance shouldn't.
Skin tones change throughout the year so hair should change with it. In winter it's common to deepen the tone and add low lights. Hair also gets a break from the heavy highlight times of year like spring and summer. But it's important to stay on schedule because we maintain the blonde as well. If you want to be lighter in spring, which is our busiest time of year, skipping winter appointments only causes more bleach work later which can damage hair. Plus, it's not cheaper in the long run. 
Maintenance services like partials are for those who stay on a regular maintenance schedule. You can't skip an entire season then schedule a partial and expect good results. Highlighted color doesn't work that way which is why we emphasize the importance of maintenance. It can take a few visits to get what you want so getting off maintenance means we have to re-do highlights based on what you have, not what you had after the last time you left the salon and most people don't realize how dark they get in just a few months.
Highlights should be maintained every 6-8 weeks.
Every 3rd Visit should be a full.
Base color every 4-6 weeks 
Balayage Hair Highlights
Studio 39 was one of the first salons in Kansas City's to perform balayage highlights. We've been doing it so long and it's such a part of our culture, we nicknamed it "baly" in the salon, but the term itself has evolved since we began doing it in 2004. Back then no one knew what it was, but it's an artistic form of free hand hair painting. Balayage means "to sweep" in French and we still do traditional balayage as well as newer techniques like foilayage. 
Colorist lingo has become mainstream because of social media so we often need to clarify "balayage" is a technique, but is also used to describe a look. The balayage highlight technique is used to achieve a blended, organically lightened look, and while we typically associate balayage hair with blonde balayage, the same technique can be used to create caramel balayage, brown balayage, or other lighter balayage highlights. Traditional or advanced, all of our color work is custom but balayage highlights indicate extra skill and time are needed to do a highlight service to achieve the look.
Get Blonde Highlights You Want
Newer techniques like foilayage are good for blonder hightlight results. We often use this when lighter looks are needed for color melting and rooted looks. Traditional balayage is where a colorist applies a special type of thicker lightener by a paddle and brush in a sweeping motion directly to the hair without a foil or additional color tool to produce balayage highlights.
It is still just as important that a colorist is correctly trained. Our entire staff has received advanced education on this balayage technique but traditional baly became known because of ombre and more subtle blonde. These looks have become less popular as blonder looks came back again. However it's a technique we will always use for blondes and brunettes for sun kissed hair highlights or caramel balayage highlights, but it's not good for looks that call for any platinum tones. It's important to choose a salon that knows when to use this balayage technique and when not to. For professional highlights using the balayage technique book with Studio 39.
Want balayage and highlights you'll love?