Hair Extensions
For the best Kansas City hair extensions, Studio 39 is your top choice for professional service and experience. Offering multiple techniques and trained specialists at both locations with our 16+ years of experience helps you choose the system best suited for your hair.  
Professional Hair Extension Certifications
Studio 39 is a certified salon with 8 professional hair companies and is a registered distributor with one of the most established hair suppliers in the US. When you search for the best hair extensions in Kansas City, you can trust our 16+ years of experience, research, and extensive education with this luxury service. 
Extension Salon Benefits
Salons must work around high overhead in general, so offering luxury services salon wide is rare. Skilled training is necessary for a stylist to do an array of extension services, and most salons you will find for extensions are booth rental. Places like these often lack resources of multiple stylists doing consistent luxury hair extensions. 
Investment Service
Investing in certification fees, ongoing education, and hair inventory can be a financial burden for self-employed hairstylist's and larger salons alike. Since this has always been one of our owners' most established and researched services, we created a system with protocols to refine how hair extensions are done. 
Types of Extensions
Tape

hair extensions

Skin Wefts and tabs are comfortable to wear, but maintenance takes longer.

Kera tip

is a heat fused single strand method. Breakage is common, but some clients still prefer them since it is the first single strand method.

 

Single side

tape

blends well with

fine hair and is lightweight, so it reduces breakage risks.

 

I-Tip Microlink

  no heat compression single strands that are great if you want  movement.

 

Natural Beaded Rows

(NBR)

are currently very popular because of the amount that can be used. But wefts are attached to locks and friction weight can cause follicle damage, so your at home care and salon appointments are a must.

 
A Custom Service
Choosing the best hair extensions for your hair is more important than what the stylist prefers.  Generally most hair lasts around a year, with the exception of skin wefts, but hair extensions are a cosmetic service customized per guest. Having the correct care products is important to protect your hair and your investment with home care release forms because we do not refund hair or extensions or services.
Quality KC Hair Extensions 
When extension popularity started to peak, many new hair companies sent us samples. Pre-checking hair under a microscope for quality was how we vetted suppliers. Narrowing down 15 years of research and results are how we chose the hair companies we now have long-standing relationships with.   
Consultation Required
Small areas done on the sides can be done to help grow out an awkward length or to fill in a bob to make it more stylish. These are called integration sets and may be as low as $800. Full sets of premium 22-inch blonde extensions can be as much as $2500, so quoting over the phone isn't done. 
When to Book
Hormones, COVID, illness, age, and auto immune issues, can all cause hair loss. Perhaps you have naturally thin hair. As long as hair is chin length or longer, these are examples of guests who are a good fit.  
How to Book
First you will need a $50 consultation to match your hair, but fee is usually applied to the hair. Costs, care, maintenance, and pricing are explained. Costs are based on 2 separate expenses, 1)the hair extensions and 2)the service. Stylists' average time for installation is 1- 3 hours, and like all specialty services, time is figured at an hourly rate.   
Pricing 
 Hourly rates start at $110 depending on the stylist. After a consultation, you will then make a deposit for 50% of the hair cost to order the hair we matched for you. Remaining balance of the hair extensions are paid when they're installed. Hair comes pre-colored, but changes can be made. Custom color costs for product and time apply. 
Remy Hair Extensions
Often, we are asked if we use Remy hair. Yes, because all salons should use Remy hair, but remy is overused and misused. Original meaning is full cuticle because low quality hair has uneven cuticles. 
Extensions are always a luxury service.
Despite new extension companies selling publicly online. Professional hair brands require licensing and certification, so lease don't ask us to work on hair you bought from a public wig store, Nor should a licensed cosmetologist buy a semi-pro hair brand from a supply store for someone to take to an extension salon to install.  Compromising our brand is not how we work.
Studio 39 Hair Extensions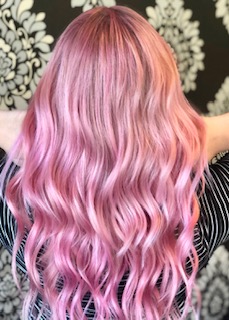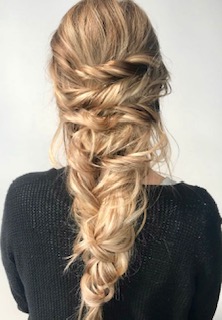 Downtown, Kansas City Location
Brie does all extension methods.
Landon does all methods.
Taylen does tape in extensions.
Emily does all methods.
Caitlin is in NBR training
Lakewood, Lee's Summit Location
Mariah does all extension methods.
Gemy does all extension methods.
Ashlea does NBR
Whitnee is in NBR training
Ethically sourced hair supports humans ❣️

Socially Responsible Salon 🌎
Most people don't realize hair companies rely on international hair suppliers that is unregulated, so hair passes through many hands before arriving to salons. We'll never compromise our ethical responsibility that comes with doing extensions.
Help Raise Awareness🫶🏻🫶🏽
Many salons don't know or care that hair trafficking is real. Ethical beauty is no longer avoidable, but by choosing us your hair extensions will be beautiful and human friendly.