Corrective Hair Color
Corrective Hair Color Salon
Hair color correction is one of our most common color services. If you need to remove color or go much lighter, you'll need a hair color correction. Home box color mishaps and guests who are unhappy with other salon color are also reasons we're seen for hair color correction.  
When to book a hair color correction.

 
Most color corrections occur when a difficult multiple process color was attempted by an experienced colorist and the color result did go to plan. Guests have been referred to us by their stylist or salon for services like global blonde and gray transitions, but out of all advanced color, corrective hair color requires the most skill. 
If a stylist admits they're not comfortable doing certain work, saying so is the professional thing to do. Honesty doesn't make them a bad stylist because specialized color is a niche area of work. Color salons are different from beauty salons that offer everything from a manicure to a facial. 80% of services booked at Studio 39 are for hair color and few salons do specialty color work like corrective hair color on a regular basis like we do.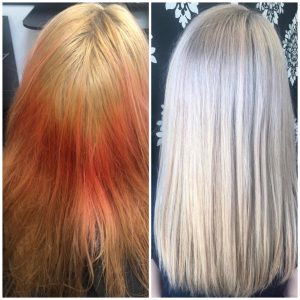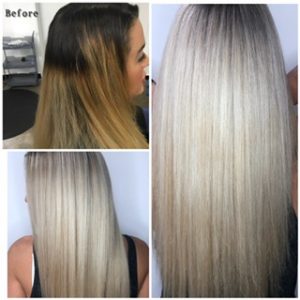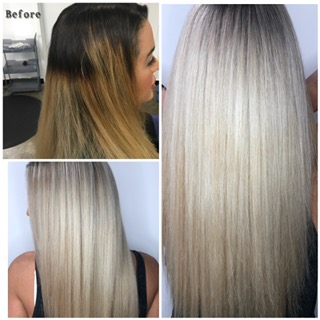 Corrective Hair Color Salons
Fixing color is common for us. Research will help you find one with the experience and resources necessary to achieve your color goal. Avoid paying more for a corrective hair color by having your color done well the first time.
What sets our hair colorists apart is the training received specifically created for this salon specialty color service. Years ago Studio 39 Salon owner forecasted how a need for advanced corrective color work would grow. Adapting advanced color service in the salon a decade ago is how we meet the needs of what current hair color demands.  
That's why hair color correction is one of our most common services now and a color consultation is the first step. 
Corrective Hair Color Is Advanced Work
Just like any profession, there are areas of focalized study for specialized work. An urban engineer plans how a community is built but may not know how to design a skyscraper. If you needed a serious surgery, you wouldn't visit a walk-in clinic.
Apply this logic to salons because they differ in the type of hair work offered. Service style is usually based on their business model or customer demand. Advanced salon services are found in salons owned by master stylists & colorists who do that type of work themselves. 
Corrective colorists work well under pressure. 
Corrective color is intense work and requires knowing what will happen in advance. Knowing where color should be placed on each hair section prior to application takes planning.
Quick problem solving and critical thinking skills must also be within an advanced colorists skill set. But education in formulating a multiple process color is why a corrective colorist is prepared for all situations. 
Corrective hair colorists love science.
Science behind color theory involves chemistry and biology. Human hair is a fragile organic compound so protocols for a hair color correction should include when hair does not perform as expected.
Each hair situation is unique because each person has different body chemistry and color biology.  Beautiful results after chemically altering previously colored hair comes with a color salon that is experienced doing color corrections on different types of hair. 
TIME
In real estate they say the cost of a home is about "location, location". Time is the equivalent to the cost in a salon. We have a general idea of how long an average service takes, but corrective hair color isn't an average service.
Work is done as quickly & efficiently as possible by multiple stylists, but it's hard to compartmentalize time like a standard maintenance appointment. Hourly rates are charged for corrective color. When color is booked correctly, we have the best outcome.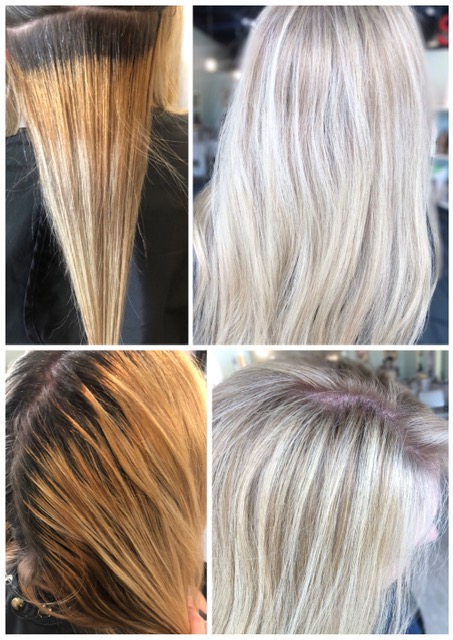 Corrective Hair Color Appointments
How many visits needed can vary based on the color situation.  Most of the images on this page were done in 1-3 visits. Serious hair color correction can expect 2-3 visits when bleach is needed to remove dark and red color. 
 When lightening (or bleaching) hair to remove color, your current color and the condition of your hair is what decides how many visits. Color gains are made after 1 visit but a full correction is usually 3 visits if heavy bleach work is required.
On every color page we say to keep your hair color on the same level you're willing to commit to, including follow up visits and maintenance.
The lighter the hair, the higher the maintenance, but color is about options. Having an open during the consultation helps find the right look for your lifestyle and your budget. 
Color correction salons have all color products.
 Color corrections require an array of lighteners because different finish techniques need different products. Balayage for example needs a different lightener versus an allover platinum look. Balayage highlighting tapers away from the root in natural-looking highlights for natural blonde looks.
For a Consultation
 Master & Senior Colorists are best booked by phone.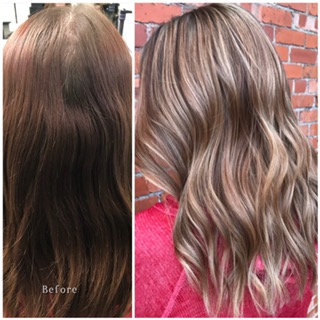 Balayage Services
"Baly" is what we call balayage which is a hand painted technique. Clay lightener is used for this highlight technique because it allows creative flexibility for one-of-a-kind looks. Balayage has always been part of our color toolbox, but it has evolved to other techniques like color melting, shadow roots, and lived in looking color. To avoid a hair color correction altogether, book the best professional hair color salon Kansas City has to offer. Consultation with one of our colorists can inform you how your existing hair color might be improved.
For color emergencies, we can prioritize your appointment! For more information, call or email which location you want to visit.