Careers
Now Hiring
If you are a cosmetology student, or recently graduated, our associate program offers advanced training and career guidance in an established salon. If you want to put your career on the right path then we would love to meet you!  
Salon Associate Program 
Our associate program partners you with a stylist educator who works with you doing hair on salon guests. In addition to securing a job while you're still in school, we can get to know you better to best match you and a stylist who vibe together well. 
Studio 39 Salon has been creating salon jobs this way for 20 years because side by side and hands in hair salon work is the best way to quickly build the skills to build your own clientele.  
Associate Stylist 
Graduating cosmetology gives you a license to learn. Like how a high school diploma is the first step to college, an associate program is like a graduate program. By increasing your skills early in your career, you also increase the demand of your time. 
You Will Receive Ongoing Education
Providing ongoing education with certified luxury services is one of our benefits.
Curly hair care and cutting.

 

Precision hair cutting.

 

Advanced color formulating.

 

Global blonde and corrective color planning.

 

Keratin Smoothing Treatments

 

Behind the chair business education.

Custom Hair Extensions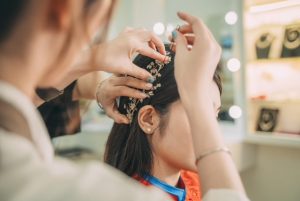 Successful hairstylists are made by working with one.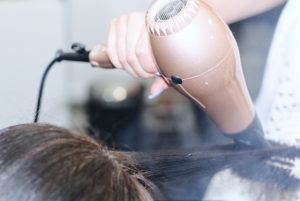 Studio 39 Owner
A salon associate program is historically proven to build lasting salon careers.
All stylists have concerns about doing hair after school, but an associate program keeps your career moving forward with rewarding work.  Learning while earning will help gain the confidence to transition from cosmetology school to doing hair. 
From Associate
Program
This was how was Studio 39 salon owner Gemy Chiarizio started her career. Starting out as an associate gave her the foundation to build a career as master stylist and color specialist.  
To High Demand Stylist
Building a salon team this way achieved her professional goal of mentoring associates to become high demand stylists too.  
Brielee is our salon associate educator and she and Gemy create classes and partner associates and stylists.  
Kind people who want to learn with an open mind are the type of personality we're looking for, because becoming a successful stylist is best done by working with one! 
Now Hiring
Apply for Kansas City or Lee's Summit below!
Applying for a stylist job?
Maybe you just moved here, or want a better salon vibe, we'd like to meet you as well. Applying for a stylist position needs two years minimum of on the floor experience, preferably in a summit salon. Applications for level 2 advanced stylists will require a technical interview.  
Reading our site and Beauty Buzz posts will help get a feel of what Studio 39 represents!
Hairstylist Career Statistics
Long term success in our industry is low since labor statistics show less than 8% of cosmetology students work as hairstylists within 5 years after graduating. That includes all who show any income as a licensed hairstylist, including part time booth renters or stylists  doing hair at home.  
Hairstylists who go on to create salon companies that create successful hairstylist careers for others are less than 1%.  
Ongoing education should be free.
Some online influencers charge thousands for training, which is great for them, but paying for more education after school is not ideal. Social media is a great tool to build your career, but free quality education with support is proven to avoid becoming a statistic.  
The best salon training will always be in a salon. Getting paid to build your career working with like-minded people means never having the stress of paying for education.  
Studio 39 Lee's Summit
Click to tour our Lakewood salon!
Studio 39 Kansas City
Click to tour our Crossroads salon!
Salon Associate Application
Salon Associates and Stylists
Ready to start your career?