Keratin Treatments

KERATIN TREATMENTS REMOVE FRIZZ AND CREATE SLEEKER HAIR. NO NEED TO SPEND HOURS RESEARCHING. WE'VE NARROWED DOWN 13 YEARS OF EDUCATION AND EXPERIENCE FOR THE BEST RESULTS AND THE SAFEST TREATMENT FOR EVERY TYPE OF HAIR. FOR BEAUTIFUL SMOOTH HAIR, SCHEDULE A KERATIN TREATMENT!
Hair Needs Keratin 
Keratin is a protein inside our hair to give it strength and elasticity. Over time our natural keratin can break down from aging, styling, hair color, and environmental dryness. The protein in a keratin treatment creates a protective barrier to the cuticle to restore hair and reduce frizz. Smoother hair absorbs less water, so you also reduce styling time! 
Cezanne hair smoothing: Not a Relaxer 
Traditional hair relaxers use harsh chemicals that break down the natural structure of hair and can leave it dry and lifeless. Formaldehyde (or some form of it) was used in the first Brazilian Blowouts that straightened and smoothed hair. Later "keratin treatments" was broadly used to describe most modern hair smoothers or straighteners, but Cézanne smoothing treatment is a far superior product and service and should not be grouped with other keratin treatments.
Cezanne has zero "aldehyde" derivatives and instead of damaging or breaking down the hair structure to make it appear smoother, it truly repairs and improves your hair. Though it does not "straighten" hair, some straightening benefits may be had due to restored shine and vitality. It's frizz free finish that can last up to 6 months can be life changing for women with unruly hair.  
Cezanne Before and After
Blonde Treatment to Tone & Smooth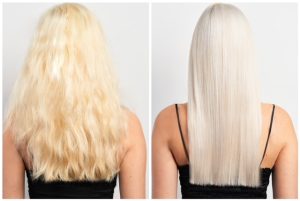 Curly Hair Smoothing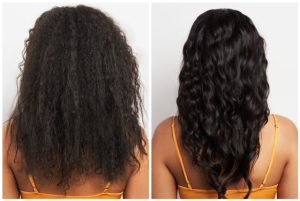 Keratin Treatments are like a "facelift" for hair.
Keratin is the protein that exists in young healthy hair and fingernails that wears down with age and can become frizzy. Few people are born with pin straight hair. Studies show 85% of people have some wave or texture. Smoothing treatments can help combat dryness from styling and chemical treatments. They can even help with dull dry hair from medical issues like cancer or thyroid conditions by improving the luster and overall appearance of hair.
Whether your hair is straight, wavy, or curly, your hair is improved by a treatment with Cezanne™. 100% formaldehyde free and healthy, we suggest this treatment to all our salon guests who want silky-smooth hair
Keratin Smoothing Treatment At Work
Cuticle layers in a single strand of hair are circular and overlapped. Notice how a healthy cuticle is closed and a damaged one is open. Open cuticles are weak spots that cause breakage. Filling in the open cracks is how keratin treatments correct open cuticles so they lay smooth.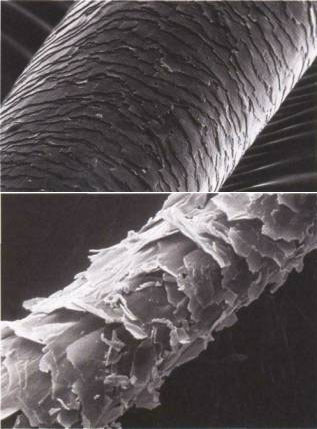 Curly hair has naturally open cuticles from texture, making it prone to dryness. Smoothing treatments restores hair by reducing frizz and damage.
Hair ages faster than skin.
 Keratin is as important to hair as collagen is to skin. Free radicals are "unstable" atoms we're exposed to  in our daily environment. Metals and chemicals in tap water are an example of how aging free radicals collect and speed up the aging process of naturally absorbent hair.  Pollutants easily attach to our hair, yet hair does not get the same level of daily care as our skin.
Lack of regular haircuts to keep "long" hair is the most common cause for accumulative damage. Under trimming hair ends causes breakage to travel further up a hair shaft. On average, by age 30, most women don't realize their hair is half the diameter it should be for one main  reason- lack of haircuts.
Deep conditioning treatments are beneficial, but keratin smoothing treatments are the most affective way to treat damaged hair to avoid breakage later.
How Cézanne Smoothing Works
All keratin treatments must have an active ingredient to crystallize proteins on the hair during the heat application. Cezanne uses botanical based alpha hydroxy acids (AHA), and natural silk protein. AHA can be found in sugar, fruit, and vitamin A. Alpha hydroxy acids have been proven safe for decades and are widely used in skincare. 
A Permanent Deep Conditioner
 Aggressive brushing and poor products also cause damage, so most people have some level of damage to their hair. Keratin treatments are a permanent version of a deep conditioner. People with natural hair texture love this as a healthy alternative to traditional chemical relaxers for incredible smoothing results to help reduce blow dry and styling time.
We only use formaldehyde free keratin treatments.
Services are described in detail so you can trust education is important to us. We place high value on factual information as false claims in the health and beauty industry has grown.
Our owner is known as an industry expert and researched keratin treatments for 2 years to find a truly formaldehyde-free formula. One that was safe for staff, clients in cancer recovery, and even children, with no animal by-products and environmentally friendly. After vetting multiple companies, Cézanne Keratin treatments met and exceeded her expectations.
Many companies advertised as "formaldehyde-free"  in the early days of keratin treatments, but had aldehyde derived ingredients that released dangerous vapors during the flat ironing process. Here you can see a list of the banned products and original keratin companies of the early 2000's that suppressed or diminished the dangers of using formaldehydes. 
Dajah's keratin smoothing treatment made her hair amazing! She has washed it and worn it curly and after school each day. Even on gym class days, she has virtually no frizz! Her curls are soft, beautiful and tangle free! Thank you Studio 39! We love this treatment because it's perfect for multi-cultural hair. Mom's looking for a kid friendly keratin treatment, you will love it!
Why Keratin Treatments Came Under Scrutiny
Cosmetics fall under FDA regulation, but historically is less focused on than food and drug safety. This combined with the fast-evolving nature of the beauty industry is why it took 7 years before a health and safety spotlight was aimed at formaldehyde use in first generation keratin treatments. 
The FDA put a 1% limit on it in the overall formula and banned existing lines with more. Old advertising guidelines allow manufacturers to omit an ingredient if there is less than 1% in a formula. This was manipulated by saying it was formaldehyde "free." 
In 2016 OSHA warned that products with any form of formaldehyde can create an unsafe workplace, so the FDA issued a warnings.  Afterwards, many salons avoided this newer service entirely. For years keratin treatments were grouped together and had a bad public image.
Cezanne has stood apart from other keratin treatments with high standards and safe products, and we brought this line into Studio 39 in 2014 and have had a decade of stunning hair results.  
Keratin Smoothing Treatment Service
Multi-cultural guests love this as a healthy alternative to traditional chemical relaxers because of the non-toxic solution and incredible smoothing results that reduce blow dry and styling time. As a hair color salon, it locks in hair color, so we recommend a Cézanne treatment to protect you hair color as well. Filling in open cuticles that are common in curly or dry hair can restore hair of the keratin it has lost and reduces frizz from texture, damage or stress. We have not seen any negative results from this treatment in 10 years, but a consultation can answer any questions. Here is an overview of the service. 
Deep cleanse hair with a special shampoo.
Apply the keratin product by combing it through.
Cezanne treatments process for 20-40 minutes.
Rinse and blow dry hair.
Flat iron the hair with a titanium flat iron.
Leaving a smooth glossy finish.
Keratin Smoothing Pricing at Studio 39 Salon KC & Lee's Summit
The service takes between 2-3 hours and we do a consultation for new guests to see the hair. This allows us to book the correct amount of time and discuss the best keratin smoothing treatment for your specific hair needs. Pricing below is the starting point based upon hair length. Thick or dense hair may priced at longer length costs, as pricing is determined by time and product used.
Shoulder length or above: $300
Below the shoulder: $350
Below Mid Back: $375