About Us
Studio 39 on 39th Street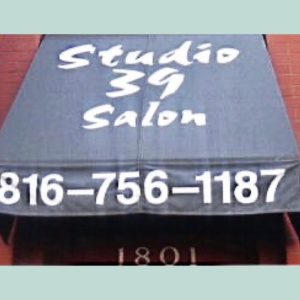 Kansas City Salon History
In a Kansas City salon called Mario Tricoci's, Gemy Chiarizio began her career as a cutting specialist. She opened Studio 39 in a loft on 39th street in July of 2001.
Eight weeks later 9/11 occurred and lifting the spirits and confidence of others became her goal. When we feel our best, we're better prepared to meet a challenge. Personal care helps us feel our best, so connecting through hair service became our purpose.
Kansas City Salon Buzz. 
Specialty work in Kansas City was rare 20 years ago, so her methods got attention. Hiring cosmetology graduates helped her manage a growing clientele, but also developed them into stylists.
Cultivating success by mentoring created service consistency, so our reputation for quality grew. Honoring the men and women in service has remained since September 11, 2001. Active military, police officers and first responders receive a 10% salon discount.
West Side Studio 39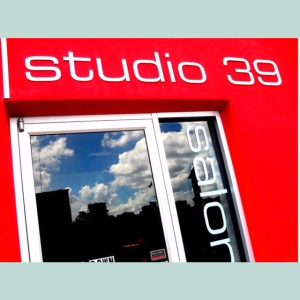 Studio 39 & KC neighborhoods.
The 2008 recession affected local businesses, but when many were downsizing, the salon experienced growth. After finding a gallery space in the West Side/Crossroads area, Gemy supervised salon construction for the move off 39th street. Within 2 years they outgrew their space again, so she searched for a their forever building.
Kansas City Salon Flagship.
Before the recession, Downtown Kansas City development was booming, but by 2010 it had come to a halt, making the search for a large space difficult.
But Gemy's construction background & creativity made an empty 4,000 square foot warehouse into S39 Downtown KC.
Building began in the fall of 2012 in the historic Bottling District on Broadway and I35 on her largest salon build. Three months later January 2nd, 2013 Studio 39 Salon re-opened and became our flagship salon.
Lee's Summit Studio 39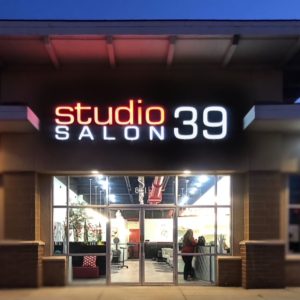 Kansas City Salon Brand
 Incorporating the historical neighborhoods where Studio 39 had grown was important, so the artistic vibe of 39th street and the art deco color of the West-side gallery are seen in of Studio 39 Downtown & our brand.
 Early phases of construction planning for Studio 39  in Lee's Summit in late 2018. The second Kansas City area hair salon location opened in April of 2019 in Lee's Summit. Now the Lakewood salon serves our team services to serve the Kansas City suburbs. 
Downtown Kansas City Studio 39 ~ 2012 to 2021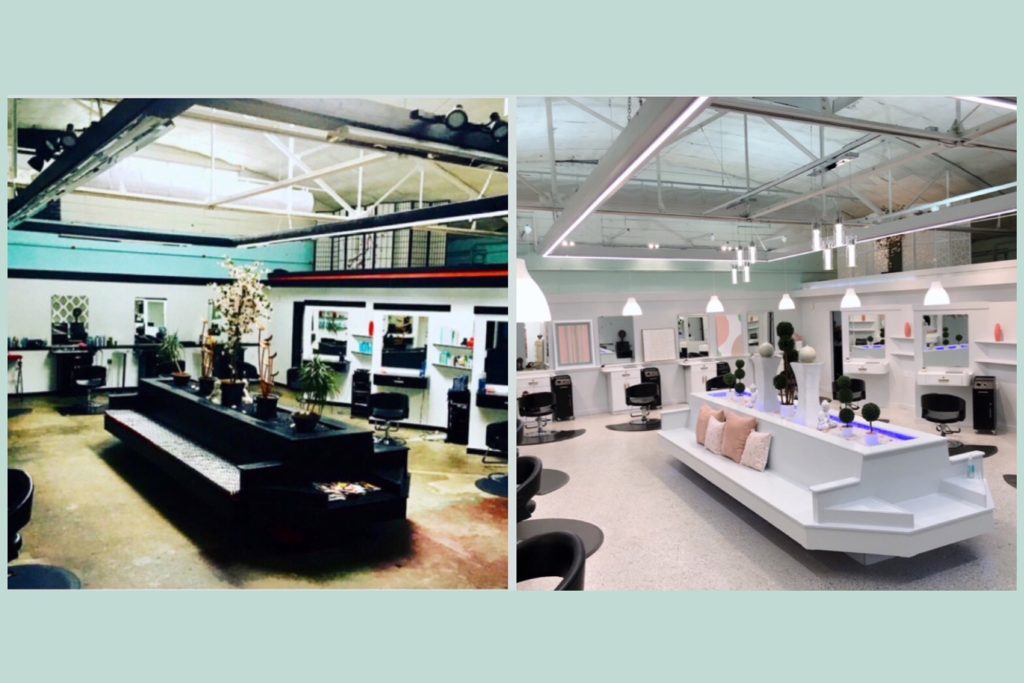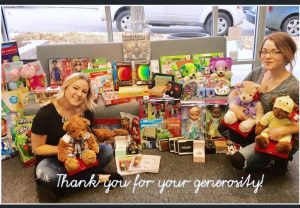 Our Community
Gemy was a play volunteer in the oncology wing at Children's Mercy Hospital for many years. Giving kids a chance to take their mind off their circumstances. Creativity and play time is important for healing and development. Especially for kids in treatment isolation.
CMH is an asset to our community, so Stock The Shoppe is a favorite S39 seasonal charity. Created by former Chiefs player (and cancer survivor) Eric Berry, Stock the Shoppe offers a free "toy store" for  families in extended treatment. Within the safety of the hospital, families in treatment can have the experience of Christmas shopping together without the added stress of leaving the hospital.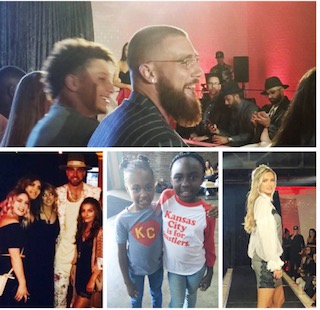 Travis Kelce & Walk the Walk
In 2015 Chiefs player Travis Kelce hosted the first Walk the Walk fashion show through his foundation 87 & Running. S39 had the honor to be invited as the sponsor salon. It is now the largest charity fashion event in Kansas City and proceeds benefit the kids of Operation Breakthrough. The project matches our goal in uplifting our KC community. Expanding opportunities to urban core children builds a stronger tomorrow for all. Travis's foundation is a year round fundraising focus because this event proceeds Operation Breakthrough. Learn more here.
I grew up in family construction business, so I never thought of the salon as a" family business." Guests always comment on how our team loves being together. We value authenticity and love being in the salon because it's our second home. In that way, we are a family business.