Studio 39 Salon: Kansas City's Original Blonde Specialist Salon
We're a blonde specialist salon because this is one of the things we're known for. Our blonde hair coloring services are legendary.
We offer all advanced blonding techniques and dimensional color services with expert advice. We are a top-rated blonde hair salon in Kansas City, MO.
Blonde specialists salon means you organize how it is done, it's as advanced service, so only advanced stylists or higher book it.
We value transparency and education. That's how we explain our approach and how we price.
 Blonde is the rarest natural hair color, therefore the most difficult to achieve.
S39 owner has been a blonde specialist and salon educator for 18 + years
Blonde specialists perform the highest level of color work. It requires vast knowledge of color theory and science.
Crafting blonde is an art that requires consistent, skillful execution.
Blonde Work is what we call color work that involves lightening techniques and formulas.
Global Blonde is blonde all over. It's one of our staple services, and difficult to master.
S39 Blonde is our collection of Blonde looks created with various techniques.
When you master blonde, you've mastered color. Blonde has always been a part of our salon brand.
S39 is consistently ranked as Kansas City's top requested color salon because of the above.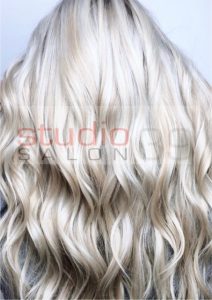 Blonde is our signature color.
Global Blonde Specialists at Studio 39 Salon
Global blonde means blonde "all over". It is a service and a technique used when establishing a lighter color foundation requiring 60% or more of the hair to be blonde. We may recommend Global Blonde and a custom color application when guests request a much lighter look. Though Global Blonde is similar to a traditional bleach and tone, there is nothing traditional in how we approach blonde services in general.  
Whether it's called bleach and tone or global blonde, both refer to lightening all the hair at once versus lightening the hair with highlights gradually over time. However, we have evolved the traditional version to a more effective service so it's less damaging. We also have multiple techniques to achieve higher blonde looks.   
Our most common request is lighter blonde, whether it's done over 6 months, or 6 hours, going significantly lighter is never done in a standard two-hour appointment. Global Blonde services  may take longer than an average color appointment, but it's often the best way to see color gains when changing darker hair, especially if it's been previously colored. Removing color with lightener is difficult. When it is done by an experienced Blonde Specialist, you should feel confident that you'll see results.
Which is why very few salons explain it like we do.
What Sets Our Kansas City Hair Salon Apart
No matter what blonde hair color ideas you have, the team at Studio 39 Salon can match your skin tone with the right hue. Do you want caramel blonde, blonde highlights, ashy blonde, champagne blonde, white blonde, or natural blonde hair?  Like the term master stylist, "blonde specialist" has become another overused term that can be misleading. 
The universal natural color scale is 1-10. Black hair is level 1 and blonde hair is level 10. Understanding how the hair color level system and its corresponding tones work within it is considered "advanced" color in the professional salon world. It's a specialized type of advanced color work few stylists do, but it's why we often correct brassy, damaged hair from inexperienced stylists elsewhere. If you've had a bad color experience elsewhere, rest easy. We can get you as light as possible, but there is a certain level of trust we will need. Rest assured, if it's possible, we can achieve it. 
Global blonde is not highlighting or balayage but may be maintained by them later

It bypasses levels & and removes unwanted tones fast, which is why it's used for corrective color.

Used to establish new blonde color requiring lightness in large amounts

Natural pigment lightens far easier than artificial

If you've had previous dark or red color you probably need corrective work

Even if you haven't colored for some time, dye embeds deep in your hair. If you want change you'll need corrective

Corrective and blonde work are similar so are priced the same

When a color change is wanted the most amount of work is done in the first 3 visits
Global Blonde & Corrective Color at Studio 39 in KC
Twenty years ago, the average American woman started coloring hair in their late 20's. Today's average age is 13. People are busy and want things quickly. We adapted our color approach long ago based on these facts. With stylists trying to keep up with color trends like balayage and vivid colors, and people trying home hair color with DIY YouTube hair tutorials, and more recently- the shutdown, corrective color is booming. 
We may be called hairstylists but we're actually hair "fixers" and Global blonde is one of our most used techniques in our color correction tool box.
You can read here the blog post about changes in our industry that Studio 39 owner Gemy Chiarizio predicted over a decade ago. Based on what she was seeing and experiencing then, is why she knew corrective color would grow. Because of the amount of education needed and the level of difficulty, she also knew it would become a niche area of salon work. Few stylists or colorists had the understanding then how many difficult processes were in involved to complete this type of work, and she ended up being correct. But it's why Studio 39 is synonymous with expert hair color in the Kansas City area today.
As fewer stylists were mentored by master stylists, overall skill in the hair industry has gone down, however client color expectations have gone up. Her foresight, knowledge of the industry, and education in biology and chemistry, and how it pertains to hair color, is why Studio 39 has been a decade ahead of most salons, especially with color and blonde. Corrective color is now our number one service for new color guests. 
 The average color situation can be tweaked but there's no room for error when bleaching hair, especially hair that's been compromised. Lightening hair is intimidating for most stylists but working with pre-damaged and pre-colored hair takes skill, confidence, and knowledge. Most of all, it takes experience. Customizing hair afterwards requires artistic ability. That's a long "must have" list for the average stylist, but it's also exactly why finding a great colorist is hard to do. Great colorists are rare, but not at Studio 39.  
Science, Art And Experience
Formulation is chemistry, process is biology, and placement is anatomy. Combining all three is an art, but knowing what will happen in advance only comes from experience.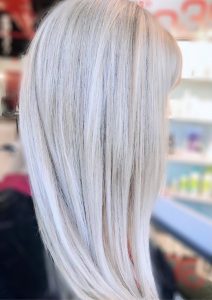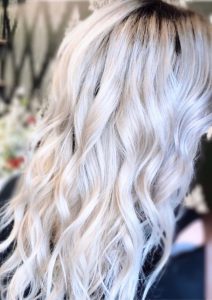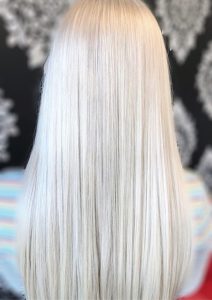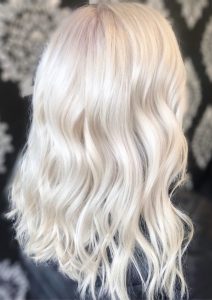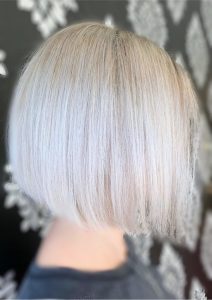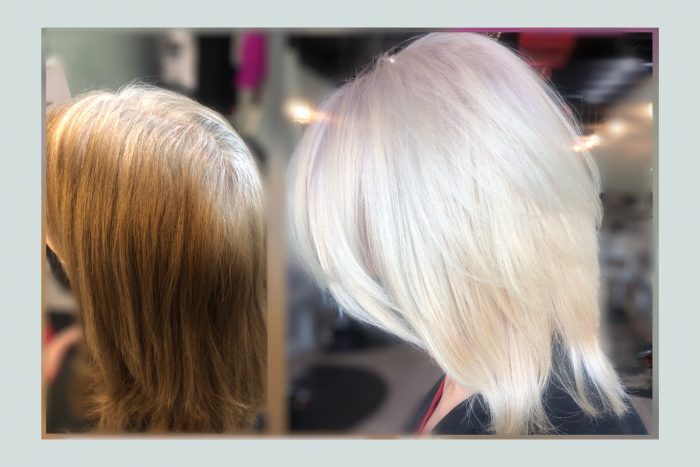 The shutdown of 2020 caused many women to see their natural color for the first time in years. It started a new trend in called white or silver transition.  
This guest was referred to me by her stylist who colored her white roots with a brown color every 3 weeks but he did not feel comfortable doing this level of blonde work
Her global blonde was done in one 7 hour visit. Her maintenance is a damage free color to keep her icy platinum color and her hair is actually healthier now. She says she wishes she did this years ago because she feels liberated from needing her roots colored every 4 weeks. 
Blonde Specialists at Studio 39 Hair Salon Explain Platinum
The universal natural color scale is 1-10. When formulating platinum, we refer to it as 11 or 12 because it is not a "natural" hair color. Platinum is devoid of pigment which is why it reflects the most amount of light. When a guest wants to see a color look that has tones ranging from 9-12, we suggest global blonde because that is the best way to obtain blonde and platinum together. 
Even if a guest wants a "natural looking blonde" we may use global blonde. All hair has darker color in the nape, but elevating color simultaneously means darker areas like the nape will lighten, yet still be dark enough to create color dimension. 
Is Going Platinum Damaging?
Yes. Any time you are lifting color with lightener (bleach) the hair is being damaged….technically. Lightening hair requires chemically breaking down the hair protein molecules. Protein is what makes hair strong but color melanin is attached to these molecules. Whether we're lightening natural or artificial color, hair can be compromised. The bigger the change, the bigger the risk, but most people also think their hair is more damaged than it really is.
Reality is, most hair damage is done outside of a salon from lack of regular cutting, poor product use or hot tools. Once that is addressed, we can assess hair condition and formulate accordingly. 
Color Planning is a skill in itself.
Generally speaking, we develop plans based around your starting level and hair performance. If your hair needs more than one visit, we schedule a rest period with a specific home care routine. But every color situation is unique, so this level of color work must be done well the first time.
Experts who design buildings or create large projects know the first step is developing a plan. Many salons lack the education or experience of knowing the importance of developing and executing a color plan. This is another reason corrective color is one of our most-booked services. We put this info out there knowing we reveal trade secrets. In fact, we've read our content on other salon sites, but if a colorist can't articulate well what your hair specifically needs in person, they probably aren't a "blonde specialist".
While that may seem like a bold statement, it's true. We've seen the results from poor color planning or a one sided approach elsewhere many times. If a salon doesn't require a consultation in advance, be cautious. Pictures of work are great, but every head of hair is unique.  A face to face conversation with a colorist is still the best way to avoid a color correction later.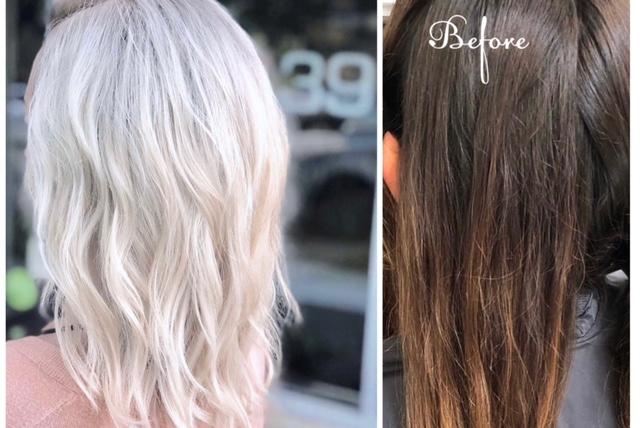 This young lady had been coloring her dark hair with box dye and we achieved blonde in 2 visits, each lasting 5 hours. Coloring hair a darker color will require corrective color if you ever want to change it later. 
Advanced Color Work
It is important to let us know what products you use, if you have colored at home, or do not frequent a salon. No judgement here, but the more we know, the better the result. Good communication is everything when discussing a color change. 
All Hands On Deck
It's not uncommon for us to work with assistants. The more advanced the color, the more involved it is. A blonde specialist may use 2 assistants or reserve another stylist. The way we work helps keep costs down but we do charge accordingly. This type of work takes time, focused attention, a great deal of labor, and unlimited salon resources. Few salons can offer all of that in one service.
---
Color is About Options
It is our job to present you with options. We are an experienced salon, but the artistic part of our brain starts envisioning how we can improve your hair when you sit in our chair. Quoting price and time, plus explaining the process plus and what to expect, is why a consultation prior is a must.
We can assess whether the service is right for your hair, but not your wallet. Most unhappy color visits are a result of poor communication and unrealistic expectations, we avoid that. We disclose information and offer transparency so there isn't confusion on cost later. If price or time is an issue, we give you options. Color works in 2 ways, slower and safer, or faster and more difficult. Keeping it simple when explaining is best because we understand most don't know how going blonde works but if we suggest Global Blonde, it's the best way to get what you want.
Trust is a good thing and trust us, you'll love us!
Advanced blonde work is done by Landon, Taylen, Emily, Caitlin, Kelsi, and Brie downtown, and Asleah, Nicole, Mariah and Liz at Lakewood. To help manage demand, we've always worked as team. Gemy does color work at both locations. People come here for results, but they stay because of our culture. How we work is unique but trust us- that's a good thing. 
We Never Do Unnecessary Color at Studio 39 Hair Salon
Sometimes guests think they need corrective work but they don't. If that happens, we will tell you and we'll book the correct service for you. Building a good mutual relationship is our goal for you, your hair and our professional reputation. However, in most cases if someone thinks they need corrective work, they probably do. There are also times people don't realize they need corrective color. That's why we do consultations for most new guests. Certain situations call for certain techniques and we choose the best way to achieve your goal. If you want something new, we can discuss options with you.
Blonde Specialists & prices.
The best approach to any new color is a consultation. Below prices are for initial color work or new guest color. After color is achieved, then maintenance prices found on our service menu applies.
30 minute Consultation: $25 ( may be applied to first color visit)
Blonde Specialty Color Work: $100- $130 (on average) an hour.