Keratin Treatment – Hair Smoothing
Studio 39 Salon is certified with multiple smoothing treatments but Cezanne Perfect Finish is by far our favorite. These unique hair taming keratin treatments leave the hair silky smooth and frizz free. A Keratin Treatment is a safe option for women wanting to improve the health of hair, restore shine, remove frizz, and bring vitality back to your hair.
Keratin is the protein that exists in young healthy hair and fingernails. As we age, the keratin in our hair breaks down and hair becomes more frizzy naturally. Since 85% of people have texture in the hair, smoothing treatments are becoming more common. Factors like every day styling, chemical treatments, and health issues like cancer treatment or thyroid conditions can diminish the luster and overall appearance of our hair.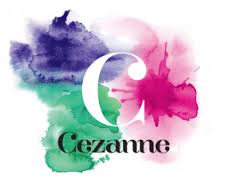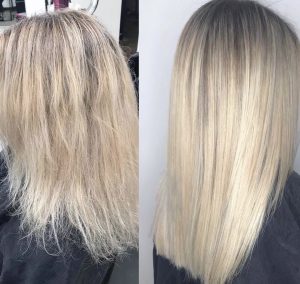 Hair Smoothing Treatments and Health
With the popularity of keratin hair treatments increasing, many salons are performing hair services without proper certification and training, often using products containing formaldehyde. Our treatments are formaldehyde-free and completely safe for all clients, even children. They're also environmentally friendly! In the past, even formaldehyde-free keratin treatments still released dangerous "aldehyde derived" vapors during the flat ironing process of hair treatment, but not Cezanne.
Smoothing treatments and formaldehyde.
All keratin treatments must have an active ingredient to crystallize the keratin onto the hair shaft during the flat iron process. Treatments at Studio 39 use botanical, alpha hydroxy acids (AHA), and silk protein solution which are all natural. AHA can be found in sugar, fruit, and vitamin A. These ingredients have been proven to be safe for decades and are commonly used in face creams.
If a keratin treatment has formaldehyde in its solution, if its less than 1%, the manufacturer can advertise the product as formaldehyde free. We believe this unacceptable. Because keratin hair treatments are not technically a food nor a drug, federal regulation of beauty products and services often slip through the cracks of the FDA. Another reason why we love European products and are committed to educating about false advertising to know exactly what is used.
We can say with confidence our keratin treatment is not only completely healthy but also gives amazing results that can last up to four months.
It's been 5 days since Dajah's treatment and her hair is amazing! She has washed it and worn it curly and after school each day (even on gym class days) she has virtually no frizz! Her curls are soft, beautiful and tangle free! Before she had the keratin treatment she would come home from school looking like she stuck her head in a light socket. Lol! Thank you Studio 39! We love this keratin treatment for mixed hair and I love as a parent this treatment is safe for my child!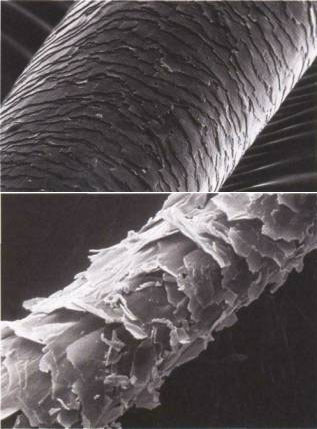 The Science of Keratin Hair Smoothing Treatments
A hair cuticle lays in circular layers that overlap each other. When the hair is healthy these layers are compact and lay tightly together. When the hair is damaged, these cuticles become open and over time can break off creating large cracks in the hair shaft. This can create a weak spot in the hair shaft that can cause overall breakage. These images depict a healthy cuticle on top and a damaged hair cuticle on the bottom.
Notice how the damaged hair shaft is open and more fragile. A keratin treatment helps restore a damaged hair cuticle by filling in the holes and cracks in the hair shaft. It is a healthy alternative to traditional chemical relaxers. The incredible smoothing results help cut down on blow dry and styling time and help lock-in hair color. It may also be a solution for many other hair issues. Whether you were born with curl and frizz, or time and styling have made your hair dull and lifeless, this treatment can resolve your hair issues.
Keratin At Work
Keratin works by laying the cuticle down and filling in holes in the hair that make it dull or frizzy from texture, damage or stress.

Application, Pricing, and Hair Care From Studio 39 Hair Salon in KC
The actual Keratin application is not complicated, it just involves some steps.
After we deep cleanse hair with a special shampoo, we apply the keratin product to the hair by combing it through and letting it set for  20-40 minutes.
Next we blow dry and flat iron the hair with titanium flat irons. This crystallizes the product onto the hair, leaving a smooth glossy finish.
It is very important to use specific shampoo and conditioner and to avoid color services for two weeks. However, you may receive a color service before your keratin treatment on the same day. In fact, we recommend it because its seals in the color, making it shiny and longer lasting.
Keratin service generally takes 2-3 hours, so please allow ample time in your day when booking. Pricing depends on the amount of product and service time.
Prices start at:
$175 for short hair
$200-$250 for medium hair
$275- $350 for very long, thick curly hair.