Keratin Smoothing Treatments
Keratin smoothing treatments are becoming increasingly popular as people look for ways to tame their frizzy, unruly hair. Unlike traditional straightening treatments that use harsh chemicals to break down the hair's natural structure, keratin smoothing treatments rely on a protein called keratin to smooth and condition the hair.
Keratin is a natural substance that is already present in the hair, and it helps to give the hair its strength and elasticity. When applied to the hair, keratin creates a protective barrier that helps to smooth out the cuticle and reduce frizz. Keratin smoothing treatments can last for several months, and they are a safe and effective way to achieve sleek, shiny hair. If you're tired of fighting your frizzy hair every day, consider a keratin smoothing treatment. It may just be the answer you've been looking for.
Keratin smoothing treatments have been one of our specialty services for years. Studio 39 Salon is certified with multiple smoothing treatments but Cezanne Perfect Finish is our favorite. These unique keratin smoothing treatments leave your hair silky smooth and frizz free. This treatment is life changing for women who need to improve hair health, restore shine, remove frizz, and bring vitality back to your hair. Straight, wavy, or curly hair can all benefit from the right keratin smoothing treatment.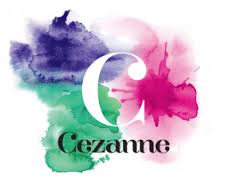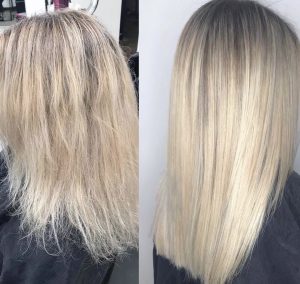 How a Keratin Smoothing Treatment Works
Keratin is the protein that exists in young healthy hair and fingernails. As we age, hair keratin breaks down and hair becomes frizzy naturally. Since 85% of people have texture in the hair, smoothing treatments are becoming more common. Factors like every day styling, chemical treatments, and health issues, like cancer treatment or thyroid conditions, can diminish the luster and overall appearance of our hair.
Keratin Treatments and Health
Keratin smoothing treatments' became popular around 2008. Popularity of this service increased and many salons offered keratin smoothing treatments without proper certification and training. Many keratin treatments products contain trace amounts of formaldehyde. Our treatments are formaldehyde-free and completely safe for all clients, even children! They're also environmentally friendly! In the past, even formaldehyde-free keratin smoothing treatments still released dangerous "aldehyde derived" vapors during the flat ironing process of treatment, but not Cezanne.
All keratin treatments must have an active ingredient to crystallize the keratin onto the hair shaft during the heat application done with a high temperature of a flat iron. Treatments at Studio 39 use botanical, alpha hydroxy acids (AHA), and a silk protein solution which are all natural. AHA can be found in sugar, fruit, and vitamin A and have been proven to be safe for decades and are commonly used in face creams.
Keratin smoothing treatments and formaldehyde.
If a keratin smoothing treatment has less than 1% of formaldehyde in a solution, the manufacturer can advertise the product as formaldehyde "free" when it is not. Because keratin smoothing treatments are not technically a food nor a drug, they are not regulated by The FDA. Beauty products and services often slip through the cracks of the FDA and are not scrutinized by OSHA until there is a problem later.
Studio 39 Salons Only Use Safe Keratin Smoothing Treatments
Committing to educating staff and salon guests alike is more important than ever for salons. Misleading advertisement has become the norm so it's important to know exactly what is used in a service like keratin smoothing treatments. Ingredients in our keratin treatment is not only completely healthy, but also gives amazing results that can last up to six months.
Dajah's keratin smoothing treatment made her hair amazing! She has washed it and worn it curly and after school each day. Even on gym class days, she has virtually no frizz! Her curls are soft, beautiful and tangle free! Thank you Studio 39! We love this treatment because it's perfect for multi-cultural hair. Mom's looking for a kid friendly keratin treatment, you will love it!
The Science of Keratin Smoothing Treatments
A hair cuticle lays in circular layers that overlap. When hair is healthy, these layers are compact and lay tightly together. But if the hair is damaged, these cuticles become open. Over time they break off, creating large cracks in the hair shaft. Weak spots from cuticle damage will eventually cause hair breakage. Styling, hair color and lack of regular haircuts are common causes for normal damage. Deep conditioning treatments are beneficial, but keratin smoothing treatments are the most affective way to treat damaged hair early and avoid breakage later.
These images depict a healthy cuticle on top and a damaged hair cuticle on the bottom. Notice how the damaged hair shaft is open and more fragile. A keratin smoothing treatment restores a damaged hair cuticle by filling in the holes and cracks in the hair shaft. Multi-cultural guests love this as a healthy alternative to traditional chemical relaxers. The incredible smoothing results help reduce blow dry and styling time and also helps lock-in hair color.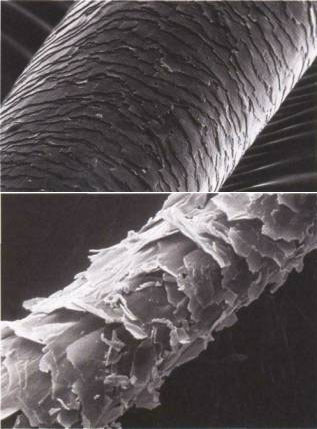 Keratin Smoothing Treatment At Work
Filling in open cuticles that are common in curly or dry hair can restore hair of the keratin it has lost and reduces frizz from texture, damage or stress.

Keratin Smoothing Treatment Process
Keratin is a protein that makes up your hair, skin, and nails. When you have a keratin smoothing treatment, a stylist applies a keratin-based solution to your hair and then uses a flat iron to seal it in. The result is shinier, smoother hair that can last up to six weeks. While keratin treatments are generally safe, some people may experience allergic reactions to the products used. If you're thinking about getting a keratin treatment, be sure to talk to your stylist about any potential risks.
It is very important to use specific shampoo and conditioner and to avoid color services for two weeks. However, you may receive a color service before your keratin treatment on the same day. In fact, we recommend it because its seals in the color, making it shiny and longer lasting. Keratin application is not complicated, it just involves some steps.
Deep cleanse hair with a special shampoo.
Apply the keratin product by combing it through.
Cezanne treatments process for 20-40 minutes.
Rinse and blow dry hair.
Flat iron the hair with a titanium flat iron.
Leaving a smooth glossy finish.
Keratin Smoothing Treatment Pricing at Studio 39 Salon KC & Lee's Summit
The service takes between 2-3 hours and we do a consultation for new guests to see the hair. This allows us to book the correct amount of time and discuss the best keratin smoothing treatment for your specific hair needs. Pricing below is the starting point based upon hair length. Thick or dense hair may priced at longer length costs, as pricing is determined by time and product used.
Shoulder length or above: $270
Below the shoulder: $300
Below Mid Back: $330