Our Hair Salon in Lee's Summit
Welcome to our hair salon in Lee's Summit! Our stylists train at our Kansas City location in our brand services that made our KC salon top rated.  
The Lakewood salon was built to meet requests for a Studio 39 in the Lee's Summit area, so we invite you to visit!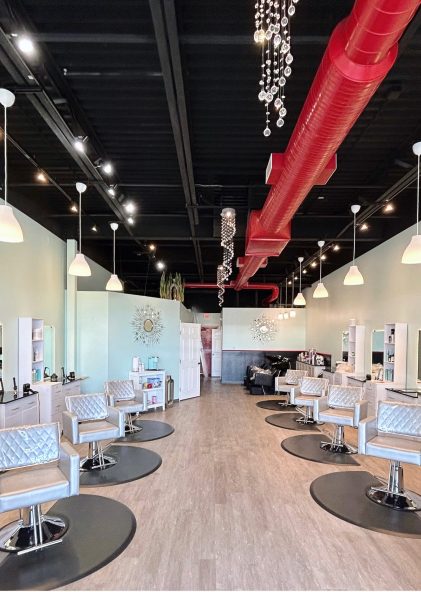 Studio 39 Salon Brand
Studio 39 Salons offer both classic and luxury services.  For new color services we suggest a consultation, but many color services available online with associate and advanced stylists. 
We welcome all (kind) people.
As an inclusive salon, we are happy to welcome all. Our only request is that guests respect our policies so everyone can enjoy a positive environment. We're a leveled salon which means we have stylists with varying skills, prices, and schedules to provide services that match your hair, budget, and lifestyle. Read more on our online service menu.   
Hair Salon for Color in Lee's Summit
Curl care, extensions, and haircutting are our staple services, but we're best known for hair color! Consultations and color maintenance appointments can be made online, but please schedule a color consultation for color makeovers, global blonde or color corrections. 
Book the consultation!
 Some services require a consult, but the consult fee is applied to a future booked service, plus it ensures you and your stylist are on the same page for your desired look and budget. 
Lee's Summit Hair Salon – Our Stylists
Contact us for help in choosing a stylist for you. Excluding extensions, most stylists do specialty services like curl cutting and balayage. Associate and advanced stylists can be scheduled online for haircuts, highlights, perms, and keratin treatments.  
Our Haircutting
S39 owner is a haircut specialist who mentored under a celebrity stylist. Haircutting education is a priority, so her Signature Haircuts is taught in our stylist training program. If you have natural curls, try a curly hair cut because our hair salon in Lee's Summit is double curl certified in Deva & Surface curl. Clipper cuts and men's haircuts can also be booked online.  
Extension Hair Salon in Lee's Summit
Studio 39 has been certified in hair extensions for 15 years and we offer NBR extensions, tape, and micro-link methods. If you're interested in this luxury salon service you can learn more about who is a good fit for extensions, and how to schedule a consultation on our hair extension page. 
How to Schedule Services
To schedule you can call or email and we will respond during hours of operation, but after hour messages will be responded to the next day. The fastest way to schedule is online, but reservations are prepaid and not refunded, so please read the service descriptions and notes if you are new to us. 
Senior Stylist & Colorist
Master Stylist & Colorist
Master Stylist & Colorist
Visit our Lee's Summit Salon!
See one of our Lee's Summit hair stylists for your haircut or hair color! Contact us to learn more about our hair stylists, hair services, or hair products.