Details create the bigger picture!
Studio 39 Salon first opened in 2001 in a loft space on 39th Street in the heart of Kansas City's Midtown neighborhood. Since the expansion in 2013, the salon has served over 5,000 salon visitors.
Our staff consists of a group of stylists chosen for their individual talent and personality by owner Gemy Chiarizio. Though each has their own personal style reflected in their work, they maintain the consistent quality of color and cutting that S39 is acclaimed for. This unique blend of professional skill is what makes S39 a Kansas City favorite.
With years of experience in all elements of beauty combined with a focus on creating stylish hair and providing quality skincare, S39 is committed to bringing the best services and products the industry has to offer to the Kansas City area.
With the motto "healthy hair is beautiful hair," we're often considered Kansas City's most knowledgeable salon for quality and service. The overall salon goal is to teach guests how to achieve and maintain their own signature style. This is accomplished through skill and current industry knowledge while still providing a fun and relaxing salon experience.
Becoming a Signature Salon
Years ago, Gemy's chair-side manner and talent combined with advanced training caused her clientele to swell. She worked with two assistants at a time so she could serve up to a staggering 200 clients a month.
Under her training, her assistants developed into confident and experienced stylists. This is how the salon grew in both loyal client base and staff. Those stylists then became mentors themselves, and that's how S39 became known for being Kansas City's top salon. Since 2013, Studio 39 has consistently been a feature salon in "Three Best Rated" polls, which selects the top three salons from every major U.S. city.
As the salon grew, Gemy realized the salon industry often lacked consistency in quality education. Since she had already developed her own way of creating beautiful color and unique way of cutting, she chose to educate her own techniques in the salon. That is how the S39 Signature Style was born, and these specialized services are taught in the Studio 39 Education and Mentor program.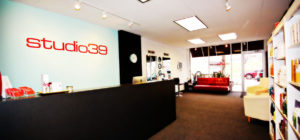 "The staff and I love to be here because we love what we do. Providing quality service and being a first-class salon is our priority to our guests ." Gemy Chiarizio
As the salon's reputation for expertise grew, so did the need for more space. In 2010, we moved from the original 39th Street location to an art gallery space in the emerging West Side Crossroads area. Within two years, the salon had once again out-grown its space, and another expansion was needed. This time, Gemy was determined to find a large enough place that could meet the needs of the ever-growing business and offer a permanent home for the salon. In the fall of 2012, a massive construction project began in the beautiful 4,000 square foot space in a historical building located at 26th and Broadway.
The breath-taking beam and truss architecture combined with wide-open space and natural light became the perfect urban escape for visitors from all parts of the city. The new Studio 39 location opened on January 2, 2013. New and existing clientele from all over the Midwest come to the salon seeking services for their hair and beauty needs. The salon space also serves as a flagship location for future S39 locations as the salon continues to grow and receive requests from area residents for more locations.
Large salons can use a lot of energy and water, so the passion to be an environmentally-responsible business continued while creating the new salon space from the ground up.
The beautiful existing concrete floors were polished and used in lieu of adding hardwood. Solar guard and solar shades were installed on the windows to help cut down on heating and cooling.
Water-saving fixtures were installed at the sinks, and new energy-saving appliances were purchased.
Only the highest quality hair color, shampoo and styling products are used so the staff and salon guests are exposed to the healthiest and best products available.
"The staff and I love to be here, and we love what we do! Offering healthy products and being a first-class hair salon are always our top priorities. We pass along what we've learned to our guests so they can be aware of product ingredients – good and bad.
Delivering expert services to our guests with their specific needs in mind is what we strive for. We are proud to offer the latest and most exclusive professional services in a relaxed environment.
We are style and beauty experts in every way. Most of all, we believe salon visits should be fun! We love to give each of our guests gorgeous hair as much as they love having it!
The dynamics of the stylists here are amazing, and I feel fortunate to work with a talented, loyal team. I am proud to offer skilled services in our beautiful salon. It is the perfect environment to give our creative best to our guests with the luxurious salon experience they deserve."- Gemy Vinson- Chiarizio