About Studio 39 – Our Hair Salon
Our History, a Kansas City hair salon.
Before it became an established Kansas City hair salon, Studio 39 was created because Gemy Chiarizio believed if a stylist could improve someone's day, a hair salon could do the same for a community. Business operation this Kansas City hair salon began on 39th street in July of 2001. Eight weeks later the 9/11 tragedy occurred. Lifting people's confidence and spirits through salon services became a mission for her and the stylists. Creating a positive place – as a local Kansas City hair salon – to help people look and feel their best has been our goal since 2001. 
A Kansas City hair salon buzz. 
Salon specialty work is part of our history as a Kansas City hair and skincare salon, but 20 years ago it was rare. Soon Gemy's beauty approach drew attention, salon services expanded and her clientele grew. Hiring salon assistants helped better serve her large customer base. She was still booked in advance for months, but the salon was gaining momentum as a local business.
As the salon assistants developed into stylists, the belief that success can be taught and shared became a key part of being a Kansas City hair salon.  Eventually the stylists became mentors which helped us become one of the best Kansas City hair salons. The phrase "we will never forget" is taken to heart here and all of our salon services are provided with authenticity and the desire to lift one another up. Since September 11th, 2001, we have offered a discount for active military, police officers and first responders.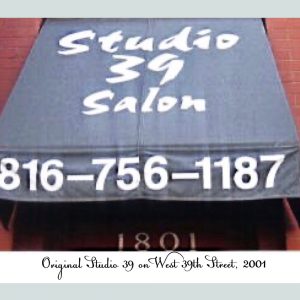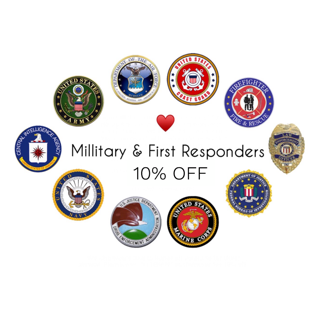 Studio 39, our history of success.
The 2008 recession affected small local businesses. When many were downsizing, the salon and salon services experienced new growth again. After finding a gallery space in the West Side/Crossroads area, Gemy came off maternity leave early to supervise construction of a much larger Kansas City hair salon. It was the first move off 39th street, and within 2 years the salon again outgrew their space as salon services continued to expand.  Another expansion was needed but this time she wanted a space the Kansas City hair salon would not outgrow.
A local salon becomes a local business brand.
Before the recession, Downtown KC development was booming. By 2010 it had come to a halt. It made finding the right space for a hair salon difficult, but one day Gemy came across a vacant 4,000 square foot warehouse in the historic Broadway Bottling District. So, on October 1st, 2012 she began her largest hair salon construction project, and on January 2nd, 2013 Studio 39 Salon opened its doors.  
 Incorporating the historical neighborhoods was important since they were part of the Studio 39 story. The eclectic vibe of 39th street and the midcentury inspired colors of the art deco West-side gallery can be seen in the design Studio 39 Downtown.  In 2018, she began the early phases of construction planning for  Studio 39 of Lakewood in Lee's Summit. The second Lee's Summit hair salon location opened in April of 2019. This Lee's Summit hair salon offers the same client-focus philosophy with high-quality salon services – hair color salon, skincare salon services – at a location that is convenient to those outside of downtown Kansas City. Both locations are well known Kansas City hair salons and make the Studio 39 brand.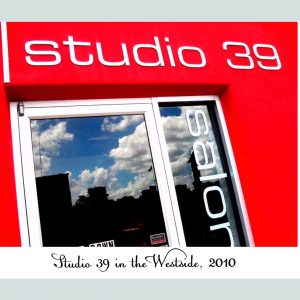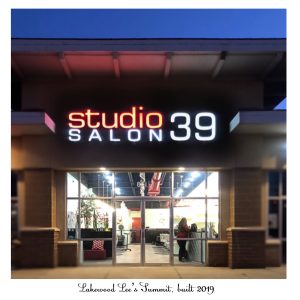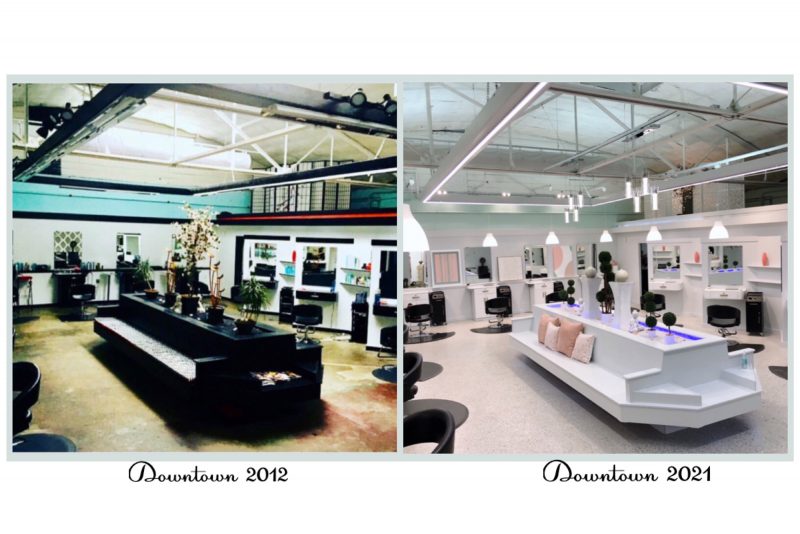 Our History of Hope, Love and Charity
CMH has been a fundraising priority for the salon because Gemy was a play volunteer in the oncology wing at Children's Mercy Hospital for many years. Giving kids a chance to take their mind off their circumstances is important for healing and development. Mainly it allows to simply be kids, which is especially important for kids in treatment isolation.
CMH is an asset to our community, so Stock The Shoppe is a favorite seasonal charity. Created by former Chiefs player (and cancer survivor) Eric Berry, Stock the Shoppe offers a free "toy store" for  families in extended treatment. Within the safety of the hospital, families in treatment can have the experience of Christmas shopping together without added stress. 
Travis Kelce & Walk the Walk
In 2015 Chiefs player Travis Kelce hosted the first Walk the Walk fashion show through his foundation 87 & Running. We were honored to be invited to participate as the sponsor salon. It is now the largest charity fashion event in Kansas City and proceeds benefit the kids of Operation Breakthrough. 
The project matches our goal in creating community unity because it helps children build confidence through opportunities. Travis's foundation is our year round fundraising focus because this event aids in expanding the education and development programs offered through Operation Breakthrough. If you would like to help us meet our annual fundraising goal you can donate online here. 
I grew up in a family business but it was construction and I chose a different path, so I never thought of the salon as a" family business." In our staff we have sisters, cousins, and best friends who love helping others feel beautiful. Our guests can see and feel the energy of the salon. We truly enjoy being together and often hear comments about how the salon vibe is positive. 
I think that's important for any level of success for an individual and a business. That's why I don't just look for future stylists, I look for future partners. So in a way, we are a family business.