You watch the full segment of Gemy on Better Kansas City discussing this topic with Alexis Del Cid of KCTV.
Balance is Key
As we age its hard to tell if you should stick to one look or witch it up. We say SWITCH because it keeps things fresh and a new style builds confidence. No matter what age, you want to wear your hair well. You don't want to look like your hair is wearing you. Speaking from experience (ahem) navigating over 40 is tricky! Ugh, it can be downright unsettling. The thought "Can I still pull this off?" frequently enters my mind. Standing in front of a mirror for 20 years also makes you realize "whoa.. I'm changing". It's ok! God made us human and humans age! To keep things easy I recommend balance. If you want a bold color, stick to soft shape in the cut. If you want a bold cut, soften color. There is a fine line between aging gracefully or looking like you're trying to hard. Here are a few common pitfalls to avoid.

Too Long
I love long glamorous hair but it is the number one aging factor according to men. It can be done well or a total miss. As we age, hair thins. Extensions can be a good fix, but keep length natural and believable. Even if you have flowing righteous hair older, shape it into a style. Plus, longer looks can drag the face down. Mid lengths or below the collar bone are great options if you don't' want to part with long locks.
Harsh Color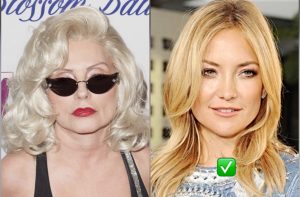 I love Debbie Harry and Blondie but white platinum blonde on older ladies can be harsh. Same with black hair color. Modifying color as you age is a good idea. I recommended adding a natural root and lowlights to platinum. You can still be very BLONDE but in a softer way. As we age our skin loses color. Golden and buttery tones of blonde are more flattering. Very black hair can be very aging so softening color with natural highlights within 3 shades of your natural color is a great way to update. Caramel colored highlights look great on brunettes. For some of us who have colored for years, finding the natural tone of what hair used to be can be tricky. Investing in a good colorist when you're over 40 is a good thing to factor in your beauty budget. Coloring hair at home is a chore, and  it can inhibit what we do in the salon. Get a consult for input and you will see there are tons of options.
Weird Haircuts
I appreciate a bold fashion statement more than anyone, but this is a no brainer. The experimental follies of youth in both life AND style should stay in your younger days. Maybe if you're an artist in SOHO this could be ok, but I'm an over 40 mom in the Midwest like most of my clients and readers. If the drop off line at school is part of your life, just don't. Stay away from harsh angles and choose soft blended layers for movement. It's way easier to style with more options and less awkward to grow out as well!
Dated Color
I was a young adult in the nineties. I'm very familiar with stripey highlights and chunky color. Or skunky color. 😄 This has the other no-no of extreme color.. but all in one look! I know the "money piece" (a blonde eye catching highlight) has become big, but as usual with color trend.. it's become a trend over kill. The money piece term started in color world a few years ago as a description for a piece that is blonder around the face. This is flattering and catches light which is youthful. It has manifested into a big skunk stripe I'm seeing all to often. Keep color blended and balanced. Dimension has to be priority with an experienced colorist.
Punky Hair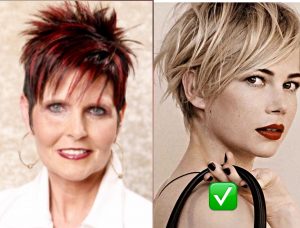 Again, I love the confidence of short hair, BUT choose something more age appropriate for shorter styles. I hate to use that term because of the whole "age is just a number" thing.. but really.. is it? I don't think so. Funky and punky looks are best on cute young faces. I'm sorry! I really am. I know this is my opinion but people pay me well for giving my input on hair style so here it is for free. Again, unless you're  a NYC art dealer, choose a short style that's timeless or softer looking. Spinkey is hard to pull off at any age, more so older. If you must wear a super edgy short cut, pair with a more soft looking color. However, some these cuts really look best on bold color as well, so this is one of those looks I feel no matter what age- you need a pretty face with petite features . Again.. just my opinion. 🤷
The Bob- Chic or Marmy..?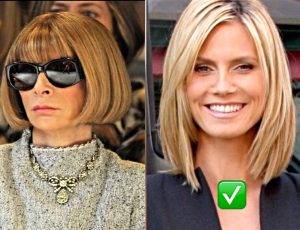 I saved the most common pitfall for last. The bob, a timeless cut I love BUT can easily look bland. I chose this pic of Anna Wintour because she has a basic cut, yet she always looks chic. The key to this look being a good choice is how it's cut. It's a classic Vidal Sassoon shape. If someone doesn't know how to cut these seemingly easy cut's (it's not easy!) it can look old fashioned quick. Plus she wears couture for a living. She literally defines style so designers bow to her. If you wear yoga pants on the reg like I do, be careful. If you have struggled with hair cutters, you could always see us of course 😉 or choose a longer more versatile look. The bonus of a longer bob is you can still pull hair up when you MOM HARD.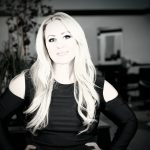 No matter what you choose, own your age! Aging is not for the faint of heart BUT I'm grateful for the life experiences that have made me the woman I am. Even in an image driven, youth obsessed culture, confidence and intelligence are what make a woman sexy! Life is funny because ironically those are things that come with age.
Thanks For Reading!
Gemy