If you Google micro link hair extensions you'll see lots of terms. Hair extension research can be overwhelming. There's a lot of gimmicky, confusing, and incorrect information online and on social media.
This post was originally written in 2010! 😱
We clearly have hair extension EXPERIENCE!
15 years later, NOW so many unqualified and untrained stylists are doing extensions.
Most without hair certification or proper training. 
This year corrective hair extensions is now our MOST booked extensions appointment.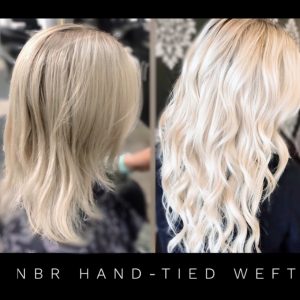 Single Strand Extensions
Let's talk about single strand hair extensions because it was the first method I was was certified in back in 2007. Fusion is a common term term for single strands but there are 2 different types. First let's define single strand hair methods.  A single strand extension is fused to a small cluster of about 50- 100 individual strands of your hair by either heat or a compression. The I-tip and u-tip single strand heat fusion are 2 techniques that use heat.
Heat Fusion Hair
These 2 tip types require a hot tool called a purging iron for heat fused hair. This iron heats up to 500 degrees and melts the bonding material on the extension to your hair. It can be messy and for most who wear extensions, they have fine broken hair already (hence wanting extensions) so heat this high IMO is not a good idea. At least if you want to have hair when you're done wearing extensions. To KEEP your hair you have to take breaks wearing extensions if you want to have hair strong enough to wear them long term. 
Bigger picture thinking is advised when using heat single strand techniques. An alcohol, acetone or an oil remover is used to remove them from your hair.
Micro Link Compression Extensions
Micro link with compression is our favorite single strand technique. No heat is used so there is less breakage and damage. Chemical or oily removers are an extra step, but a micro link install can be easily removed.
With our extensions, you can achieve the perfect length and volume with ease. Say goodbye to short or thin hair and hello to stunning, luscious locks.
Did you know our hair extensions are sourced from the finest quality, ethically sourced, 100% human hair?
See this Micro Link Install!📺
Click to watch this Micro Link hair extension installation at Studio 39 Salon!
NBR Micro Link Hair Extension Install
Click to watch this NBR install with Micro Link hair extensions at Studio 39 Salon!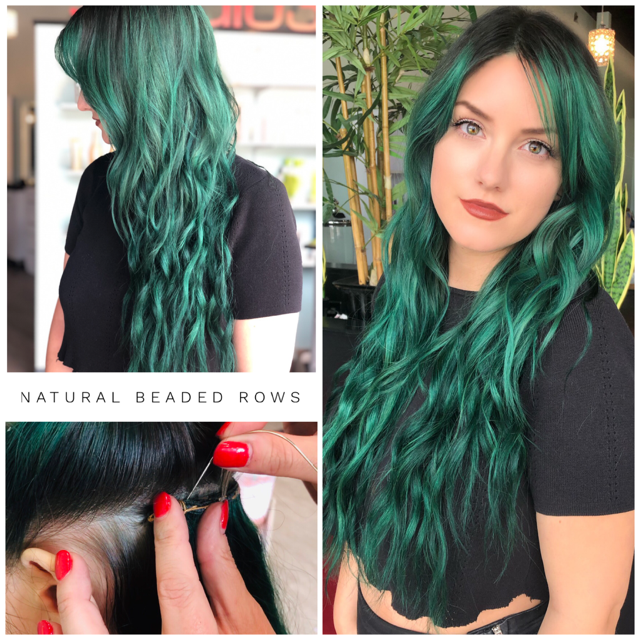 WATCH this single strand install at Lee's Summit Studio 39 Salon!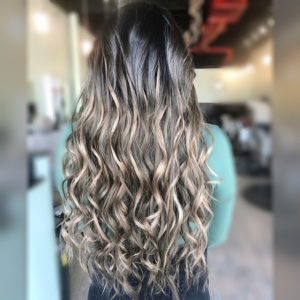 Remy Micro Links
Remy is another term that is overused. It simply means the hair still has the cuticle intact but is used by extension companies to indicate quality. 
Human hair strands that are healthy have an outer layer called a cuticle. Cuticle layers overlap  the exterior of the hair like a Christmas tree. Healthy hair has a cuticle that is tight and close together.
The cortex is the middle layer, and the medulla is the inner core of the hair. If someone over bleaches their hair or refuses to do the correct amount of cutting, the cuticle is the first part of the hair that becomes damaged. Over styling and low  quality products also cause cuticle damage. 
 Remy basically means un -damaged virgin (un-processed) hair.  Remy is not a big deal because if hair extension suppliers say "Remy"  it is an indicator they are not a professional brand.  
About Micro links
Hair extensions help in adding length, volume, color , thickness and helping clients regain hair density lost due to illness and medical treatments.  Micro links use only 2 things. The link and the extension strand. Links are tiny tubes made from copper. Copper is a naturally occurring metal in our body, so copper can actually promote increased hair growth.
Copper has gone up in cost and now other metals are often used. I prefer copper if you can still find them. Copper is proven to help with inflammation. Regardless of material, a link extension is done by threading a copper tube, which is the micro link, through a strand of your hair. Then inserting the hair extension and compressing it into place a hair plier. tool. Since the hair is enclosed in this weightless little tube, there is less tension than a heat fusion.
 Research and see why we are top rated for hair extensions. Remember whether you use micro link or another method, take good care of your hair extensions! My extensions look like Chewbacca when I neglect them, but I own salons!  TLC and the correct products for at home care will protect your micro links hair extension investment!