Here is the segment of Gemy on KCTV5 Better Kansas City inspired by this post.
Everyone knows the right hairstyle can make or break your look. Here are some things to remember when choosing a style to help make you look and feel slimmer or great for round and square face shapes.

Slim Style 101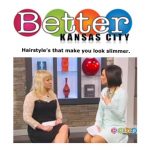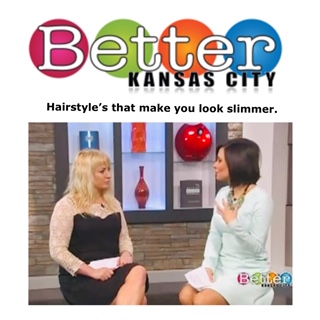 All haircuts and styles are about about balance and proportion. Try to stay away from extreme lengths.
A cut that is too short will make face appear larger, and something that is too long (especially with a horizontal line) can make the back appear wider. When in doubt go with long to create face length but choose soft flowy layers for movement.
1. If a Bob is your go-to haircut try to stay away from sharp, angular horizontal lines. These always widen the face. Choose something with a middle part with volume at a shoulder length. This goes for bangs too. Keep them soft and side swept.
If you wear your hair up in a bun often do a  looser one with more volume and soft pieces around the face. The bun itself  should have has more volume and height. Anything to sleek or tight to the head will accentuate fullness in the face.
3. The same concept applies to ponytails. A lower ponytail will drag down the jaw line and can create a thicker
looking back. Ponytail should stay higher with volume.
4. Often stress and weight gain go hand-in-hand. If you are going through a major life change like pregnancy or a divorce – it is not a time to do anything drastic with your hair. Women can be emotional about hair,  so don't let your emotions rule choices about your hair. Severe geometric and asymmetrical cuts are coming back. These are a definite no-no. Choose soft color and soft lines. An all over color that lacks dimension will accentuate fullness of the face. Hair color that has depth and highlights will add interest and movement of the hair, always a good choice.

5. For men (because I feel as though we often leave them out of a solid style advice in blogs) A good balanced, not wide on temples with more structured yet textured length on top- will thin the face and make it appear more youthful. Don't Forget Product! We love the Fatboy line for men.  
Check out a video of Gemy on Better KC talking about this topic in a segment!