Colder temps mean sweaters, jackets and other hair static causing fashion. Fall starts a long season of static electricity that worsens with each stroke of the hair brush. Winter weather dries out skin and hair so switching up products is important!  
 Causes of hair static.
When two objects rub together they swap electrons. The little light show under the sheets at night from your socks rubbing together is from the electrically charged  energy created from the friction. That's why hair static happens most when there's less humidity in the atmosphere.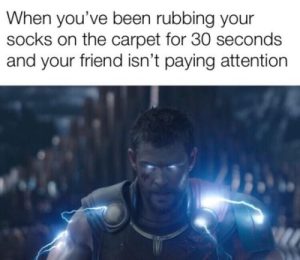 Moisture VS Hydration
Humans are mostly made from water. Since moisture attracts moisture, we attract moisture when there's an abundance of it, which is why hair frizzes in humid summer months. Winter air is dry. Furnaces make dryness worse, so moisture must be applied through products, and hydration is key in keeping that moisture in.
Dry air means hydrating products aren't optional- unless you produce an abnormal amount of oil. If you have fine hair, hair static electricity is common. Good products won't weigh down hair, so preventing dry hair static needs the most important tool- hydration.
Hydration is the process of water absorption.

Hair is dead skin cells.

Water isn't in hair like living skin tissue.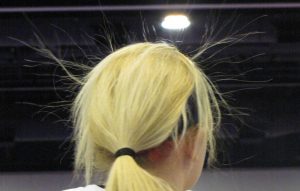 Shampoo Less
Shampoo is a cleanser, so even a good one will remove natural moisture from scalp oil. For people who color hair, if your hair feels dry or looks dry, it is dry, so look for a shampoo like Enjoy or Artego Raindance Hydrating shampoo and conditioner. Read the labels and avoid "reconstructing" and "protein". These should be used carefully anyways since too much protein makes hair brittle. Better yet, avoid them entirely in the winter when moisture is the priority.
Conditioner: the hair static fighting friend
Deep condition every 2-3 shampoos. Maybe more depending on what type of daily conditioner you use. If you avoid masks, use a high quality hydrating daily conditioner and leave-in spray conditioner.
Avoid Budget Products
Don't grab the first "moisturizing" spray you see at the drug store because this is where it pays to be picky. Moisturizing products are designed to "trap" moisture in the surface of hair. High quality products are quick absorbing. Cheaper products are often loaded with waxy paraffin that create build up that can causes chemical reactions with color! Click to see what build up looks like.
Hair Static & Fine Hair
Adding a couple of new products will make a big difference. Unless your hair is very bleached or naturally frizzy, ease into new moisture products.
Bodifying Masque by Loreal Professional- I have fine hair and I can't live without this. It has a slight tingle sensation to stimulate the scalp but not overwhelming, plus gives volume AND hydrates hair. I've used everything (obviously) and this is by far my favorite deep conditioner.  Also, Loreal drugstore brand is not the same European line as Loreal Professional. Same name, two totally different companies with two different customers in mind. Loreal Professional is designed for salon care and color, so you wont get the same result with the cheaper American drug store brand. Sorry. 😬
10 in 1 Leave in Spray by Loreal Professional- All these benefits in this one product.
• Heat protection up to 450°F
• Shine
• Softness
• Consistency of hair fibers
• Smoothness
• Detangling
• Facilitates easier blow-dry
• Anti-breakage
• Helps protect against the look of split ends (doesn't mean skip a cut)
• Helps reduce the look of frizz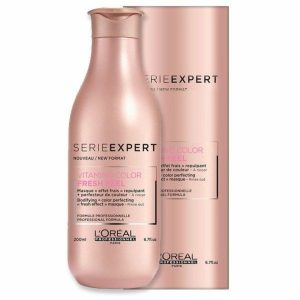 Daily Hydration Conditioner by Artego Rain Dance-This is the main color line we use, and unless you're into Italian salon products, you've probably never heard of it. If you see a theme in European products being higher quality, that's because they are. 
Leave In Detangling Milk by Artego- All the benefits in Loreal 10 in 1 are appealing, but when dryness is the issue, this is my pick for everyone.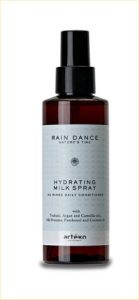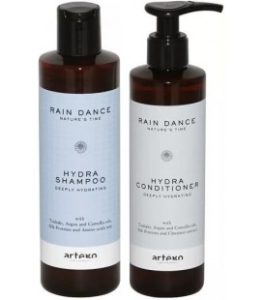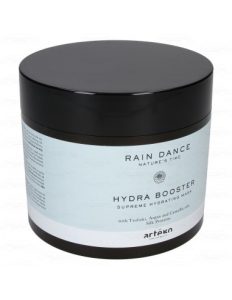 Hair Oil
Another good winter hair product is an oil because oil seals in moisture. Surface makes a light, high quality oil derived from the Bassu plant.  Add a few drops to the conditioner for a more hydrating treatment, or a when hair is dry.
Spray oil's are good for product control. Spritzing your brush or spraying in palms first avoids the greasy look from product overload. Use closed, cupped "Barbie hands" and focus on the exterior where hair static happens. 
When you need an oil in a pinch, you can use olive oil. But nut based cooking oil is not ok for long term use because of the high protein level. Oil is something to use very sparingly!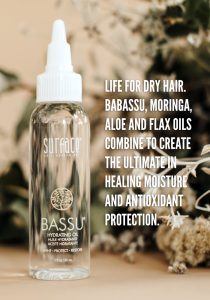 Good Hydrating Lines For All Hair
Enjoy hydrating line is amazing and has a low PH. Surface is an organic line that centers around the hydrating benefits of the Bassu plant mentioned above. Whether your hair has texture, curls, is colored or straight- these will all help maintain moisture during harsh winter months!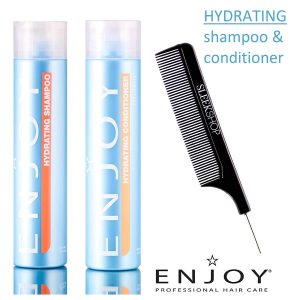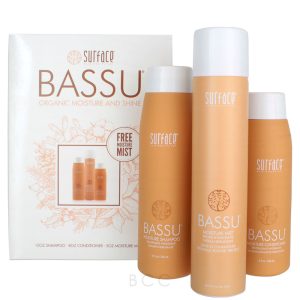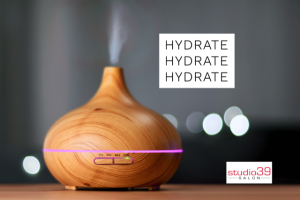 Other Hair Static Tips
Rose Water,  keep a bottle around to spray face and hair.
Static Guard, anti static spray on clothes, furniture and carpet helps.
Dryer sheets, when time is an issue, swipe in a downward motion on your hair. 
Humidifiers, furnace humidifiers aren't enough. Small units in main rooms make a big difference.
Drink lots of water, stay hydrated inside!