Hair Banding & Corrective Color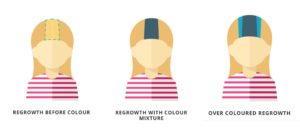 Causes of Color Banding
May 1st, 2017
With box hair color we often see a situation we refer to as "banding". Banding is most visible when box color is repeatedly used at home on darker hair and someone is trying to achieve a lighter level than their natural color. Look closely at the chart above. Color imbalance is caused by overlapping from an incorrect application and formula. Both of those things have to be perfect when going lighter. 
 Salon Hopping prevents consistency. 
Another situation that can cause this is if hair has experienced multiple color processes from different salons using different techniques or formula in a salon as well. An industry term for clients who visit multiple salons is "salon hopping", but please know it's neither good nor bad. It just means for whatever reason, someone hasn't committed to a salon. Maybe it's because they're looking for something they're not getting or a better deal, but it's not uncommon. Though with color, we don't recommend it.
Look For A Color Salon
 Salons are not created the same. Some are haircut focused and some are general "beauty" salons. Research is key for color -especially blonde. I recommend a consultation and establishing a relationship for consistent color results. Salons that have the professional resources to maintain your color are the best place because consistent color results require consistency, in and out of the salon.
So, look for a salon that talks about this first, then be consistent in your maintenance and care. 
If you've colored at home, be patient.
If a colorist develops a color plan for you, stay for three visits because they probably know what they are talking about if they develop a "color plan". Planning is an indication of color correction experience. They know what you want will need specialized attention and time to get realistic, safe results.
s stylists, we want to create beautiful hair and since we say healthy hair is beautiful hair, sometimes we get uncomfortable when a client asks us to aggressively bleach hair in the name of blonde because it compromises the hair health. 
We have no problem doing it, but we will do it on our terms because we know what can happen so we start thinking of all the variables.. A good colorist knows lightening is done over time, which means the initial results are sometimes not as dramatic as you want. Just like building a house, good color relies on a foundation. If the foundation is done incorrectly a house won't last. Color correction is similar since we have to correct your color first, then build lighter levels later.
Remember if you ever want to color at home, you're going to need corrective color if you want to change it later. Maintaining what we do at home, or even another salon, isn't realistic. These are all things to consider when you watch a DIY about coloring at home.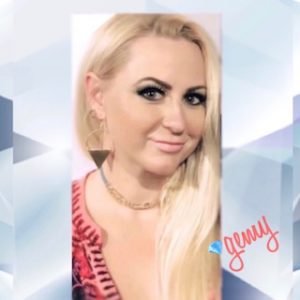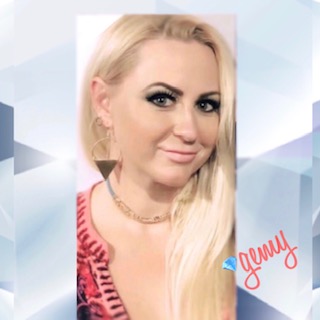 Beauty Buzz Blog
Read more of Gemy's informative blog posts on related topics below. Get insider beauty tea on hair color, blonde hair and what's trending from a color expert and master stylist- the Studio 39 Salon owner!